C – I must say, Luke has this pickling thing down to an art.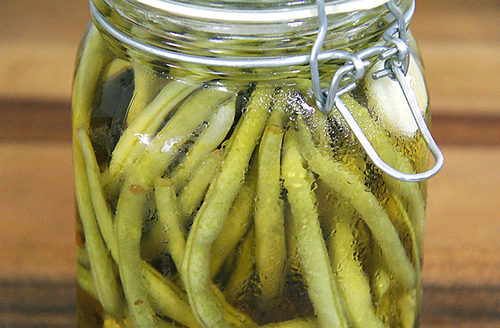 Real art. These jars are so pretty. He got really creative with each one. They are all so crafty. The cauliflower and carrot one is beautiful. I love that he added red Thai chili peppers to the whole dill pickles as well as the spears. I also love how he layers every jar to make them so pretty.
I must say the Be Mindful. Be Human. refrigerator hasn't looked this good in a while. Every time I look in the refrigerator there is an array of pretty pickle jars waiting for me. Of course, I like pretty food so having these jars in my refrigerator makes my delighted.
These pickled green beans were probably less colorful and pretty than the others. But, they did a great job standing out from the rest of Luke's pickled art exhibit. They looked so unique and different.

You almost never see pickled green beans in the grocery store. So, it was fun seeing them in the refrigerator.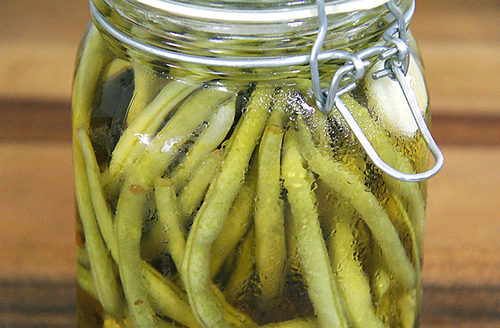 Prep time: 30 mins
Total time: 30 mins
Ingredients
1 pound green beans, tips cleaned up
8 Tbsp salt
4 Tbsp sugar
2 garlic cloves, peeled
2 Tbsp peppercorn
1 Tbsp coriander
½ tsp red pepper flakes
4 cups water
2 cups vinegar
Instructions
In a medium pot, add water and vinegar. Bring to a boil. Reduce to medium heat.
Add peppercorn, pepper flakes, coriander, sugar and salt. Stir until salt and sugar are dissolved.
Turn off heat and let cool to room temperature.
Place garlic cloves at the bottom of the jar.
Place enough green beans to fill up jar.
Place liquid mixture into jar. Place jar in refrigerator and let sit for 2 weeks.
Shake once a day to ensure seasonings are distributed evenly.
DO NOT OPEN UNTIL READY.
Open after two weeks to taste.
Serve with sandwiches or eat as a quick snack.
Enjoy!
I tried these first since they looked so unique and interesting. Nice with a bahn mi-style sandwich.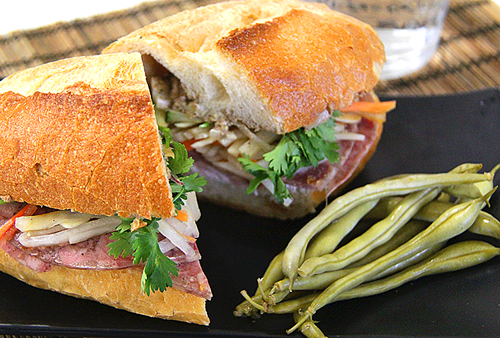 I am so glad I tried these first. They were great!