Update and Redux: C – We think the best way to use a basic pesto is with a good piece of meat. This leg of lamb with basil pesto is amazing. The flavor combinations balance perfectly. We really can't get enough of this dish.
C – I am so grateful for the abundance of food we have been able to show on Be Mindful. Be Human.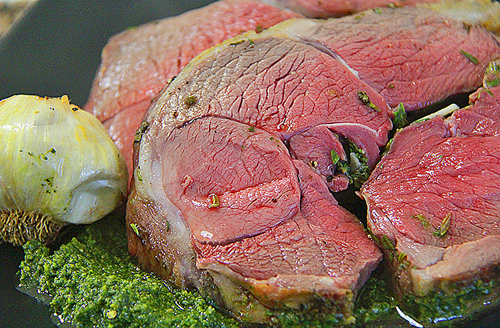 It's not just the abundance. It's also the quality of food we have attracted. I knew Sacramento and the surrounding area had great things to offer. I just didn't know all the possibilities. It seems like I never opened my eyes, until I started to work on this blog with Jim and Luke. I am so amazed and grateful.

I am so amazed that we have a local poultry company doing the right thing by working in a mindful Buddhist style. They help us stay more aware of where our poultry comes from. I am amazed that I can walk down the street from the Be Mindful. Be human. office to get the freshest sushi-grade fish anywhere in Sacramento. Of course, our new discovery of a Halal meat vendor who works with you to get the freshest meats possible … like spring lamb for this week. They are just s few miles away from Sacramento and are one of the best sources we have found. I love that all these vendors think about quality, freshness. How taste, health for their animals and customers come first, before making money. These are genuine people. We need more people like this.

I was the happiest person on lamb week. I kept on opening the fridge to see all the meat inside. All the possibilities we have for this great lamb. It reminds me of going to my parent's house and always having a freezer full of meat. It's a guarantee that we always have food in the house.

I have mentioned on some weeks in the Be Mindful. Be human. kitchen there isn't a lot to eat. Just stuff for shoots and leftovers. So, when we got a half a lamb, I knew the fridge was going to be full. I didn't know was how good this lamb was going to be. Really fresh lamb is amazing. I don't think I have ever tasted extremely fresh and well-taken-care-of meat before. Not like this.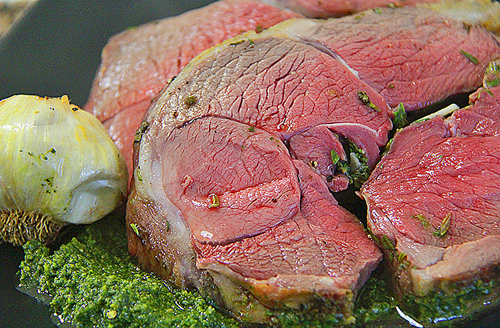 | | | |
| --- | --- | --- |
| Roast Leg of Lamb with Basil Pesto | | |
Prep time: 15 mins
Cook time: 1 hour
Total time: 1 hour 15 mins
Ingredients
1 leg of lamb about 3½ pounds, de-boned
8 cloves garlic, thinly sliced
2 whole garlic cloves, tops cut off
¼ cup canola oil
2 Tbsp fresh summer savory
½ bunch lemon thyme
2 Tbsp fresh rosemary
2 Tbsp fresh marjoram
Salt and pepper to taste
2 cups fresh basil
3 cloves garlic, more if you prefer
½ cup Parmesan cheese, grated
⅓ cup toasted pine nuts
½ cup olive oil
Salt and pepper to taste
Instructions
Preheat oven to 350 degrees.
Mix together savory, thyme, rosemary and marjoram.
Lay out the de-boned lamb leg. Spread half of the herb mixture inside. Drizzle olive oil on top.
Add sliced garlic cloves inside. Salt and pepper the inside of the lamb.
Roll the lamb.
Tie up the roll. Two with the grain and three against the grain (three to remember the against-the-grain direction you will cut, once it is done.)
Rub the remainder of the herbs all over the outside top. Drizzle olive oil over top. Salt and pepper the outside of the lamb.
Place lemon thyme on the bottom of roasting pan. Place lamb roast on top.
Add whole garlic with a drizzle of oil on each into pan.
Place in the oven and roast for about an hour. To get mediumm rare check the thickest part with a thermometer. Roast will be done at 115 degrees.
Remove from oven and let rest for 20 minutes.
Slice in the direction of the three strings.
Serve with pesto.
Enjoy!
Place basil in food processor. Pulse-chop until fine.
Add Parmesan cheese and garlic. Pulse few a few seconds until incorporated.
Add pine nuts and chop until fine.
In a slow and steady stream, pour olive oil through the food processor spout while blending. Blend until fine.
Add salt and pepper to taste. Mix well.
Serve with lamb.
Enjoy!
A simple roast can be dry and flavorless, if you don't know how to make it right. I have had bad lamb before. Even at a restaurant. This roasted leg of lamb was amazing. Fresh herbs from the garden, a really fresh piece of lamb, garlic, salt and pepper are all you need. We paired it with a basil pesto. It was a taste explosion in my mouth. Tender and juicy meat, covered with herbs and smothered with a nice fresh pesto. I was so full. I kept on wanting to eat more.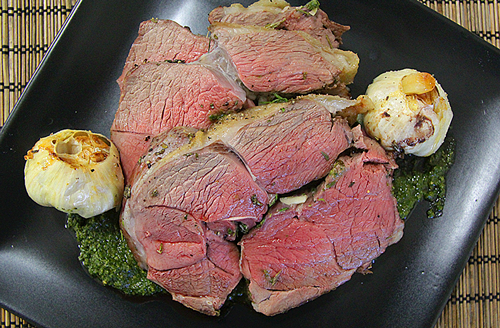 It was one of the simplest and best meals I have had in a long time. Hope you try it.