C – Summer fruit is quite abundant right now.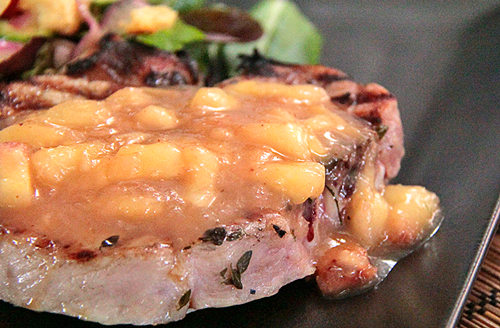 I am so happy that it's cheap and delicious. There's only one problem. I can't eat it fast enough. You know how much I hate throwing things away. I needed to figure out what to make with it. Jam?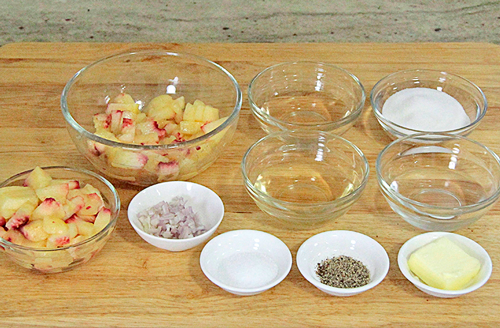 Yeah, but I don't like jam much.
I suggested making some sort of gastrique with fruit. Jim didn't think it would work. He made some with cherries the other day. It didn't work out as well as he wanted.

I wanted to prove to him that it was possible.

So, first I tried remaking the cherry gastrique. It worked out wonderfully. Jim even asked for a second batch. Then, I made a strawberry one. Think sweet strawberry jam with a savory, rich element to it.

Now, peaches. It has to work. Just a little thought process to see how it would turn out.

End result? Delicious with pork. Way better than apple sauce and pork. I loved the taste of peaches, shallots, butter, a bit of sweetness and saltiness all combining into one.

Yup. A really perfect summer time dinner. I ate the whole pork chop. I couldn't stop because the gastrique was so delicious.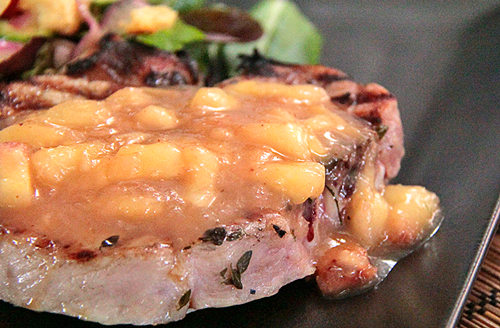 | | | |
| --- | --- | --- |
| Peach Week: Peach Gastrique with Grilled Pork Chops | | |
Prep time: 30 mins
Cook time: 15 mins
Total time: 45 mins
Ingredients
¼ cup water
¼ cup sugar
¼ cup white balsamic vinegar
1 Tbsp unsalted butter
1 shallot, minced
¼ cup white wine
2 cups peaches, peeled and chopped, divided in half
Pinch of salt and pepper
2 pork chops, brined and grilled (see recipe link below)
Instructions
In a small sauce pan, add water and sugar. On medium heat, cook until golden brown in color and caramelized.
Remove from heat. Add the white balsamic vinegar. Mix until the caramel is dissolved. If the caramel isn't dissolving, place back on heat until it melts. Set a side.
In another sauce pan, place butter on medium heat to melt.
Add shallots and cook until translucent. About 3 minutes.
Add 1 cup peaches and wine.
Also add a pinch of salt and pepper. Cook for about 10 minutes until peaches are tender.
Let cool. Once cool place in food processor. Blend until smooth.
Place back into pot and add remaining peaches.
Slightly warm the caramelized vinegar mixture.
Add the mixture into the peach mixture. Cook until simmering.
Cook the pork chops on the grill on high heat. Cook for about 3 to 5 minutes on each side.
Place on a platter and let rest.
Plate pork chops and top with peach gastrique.
Serve.
Enjoy!
Grilled Pork Chop recipe
I suggest making more than a small batch.
It's great to save and slather on bread or meat. It's really a great alternative to jam.