C – These hack-a-thon guys are hard workers.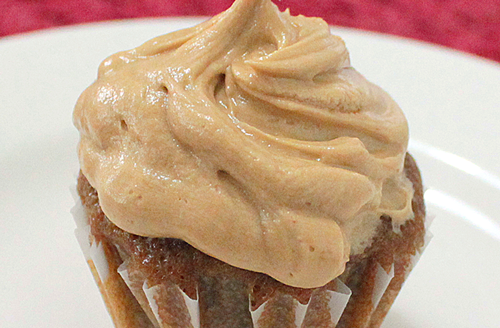 They also seem to be having a lot of fun working. It's the last hour and there are still a lot of people here. To give them a pick-me-up, I wanted to make sure they were caffeinated. My boyfriend requested I make something with coffee in it. He suggested coffee cake. I had to let him know that there isn't actually coffee in coffee cake.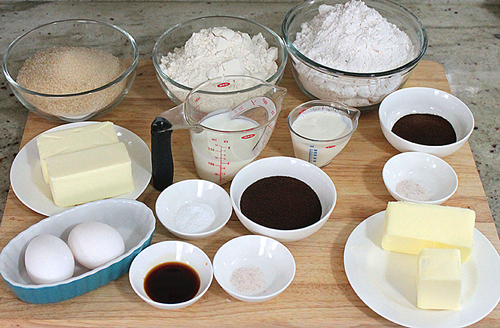 He was a bit disappointed. I felt bad and started researching to see if someone actually had a cake with coffee in it. Of course there was. Pioneer Woman has a great recipe.
This coffee cake was a big hit. Lots of people commented on how good it tasted. What I had to warn them on was the amount of coffee in it. If you don't drink coffee you might get a sugar and caffeine kick all in one. I tried a few just as a taste test. I wished I made these sooner in the bake-a-thon. I would have been done with all my baking in three hours with all the energy I had. It was great.

The cake, by itself, didn't taste like coffee. But, the frosting did. The frosting really made the cupcakes worthwhile. It was the best part. People started just requesting the frosting to eat. It was that good. But I knew it was a mixture of the soft, rich cupcakes and the creamy, coffee-flavored frosting that made this dessert great.

Besides the ice cream, this was everyone's favorite dessert. People were asking for these cupcakes by the plate full.

I was happy the bake-a-thon and the hack-a-thon are over. It was very successful and my boyfriend is still hearing complements about the baked goods I brought over.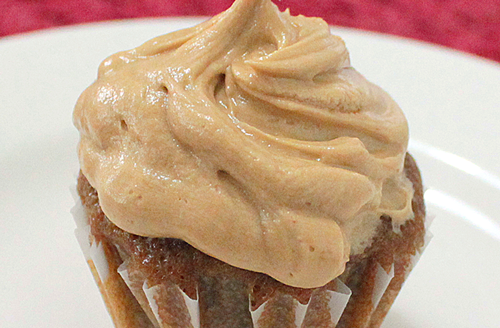 | | | |
| --- | --- | --- |
| Mini Real-Coffee Cupcakes | | |
Prep time: 30 mins
Cook time: 22 mins
Total time: 52 mins
Ingredients
2 cups flour
2 cups sugar
¼ tsp salt
2 sticks butter
3 Tbsp instant coffee crystals
½ cup buttermilk
2 whole eggs
1 tsp baking soda
2 tsp vanilla
1½ sticks butter
1 pound powdered sugar
2 Tbsp instant coffee crystals
¼ tsp salt
4 Tbsp heavy cream
Instructions
Preheat oven to 350 degrees.
Place liners into four 12-mini-cupcake baking pans.
In a large bowl, mix sugar, flour and ¼ teaspoon salt. Set aside.
Melt 2 sticks of butter in a pot over medium-low heat.
While that's melting, add 3 tablespoons instant coffee to 1 cup boiling water. Set aside.
Once butter has melted, add coffee mixture to the butter in the pot. Let it come to a boil for about ten seconds, then turn off the heat. Set aside for just a minute.
In a separate bowl, add buttermilk, eggs, baking soda and vanilla. Mix until well combined.
Pour the butter/coffee mixture into the flour mixture. Stir the mixture together gently. The purpose here isn't to mix it together perfectly, but to cool down the heat before adding the egg mixture.
Add in the egg mixture and stir gently until well combined. Then pour into pans. Bake for 20 to 22 minutes or until set.
Allow to cool completely.
Combine all icing ingredients, then ice the cake.
Chill for an hour before serving.
Serve.
Enjoy!
All in all this day was a success. I'm really tired.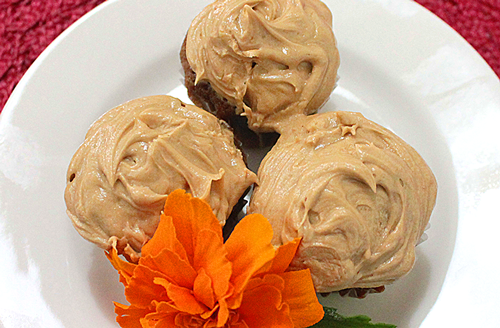 I am not sure if I will do it again.
Adapted from: http://thepioneerwoman.com/cooking/2009/08/coffee-cake-literally/