C – Meyer lemon salsa?!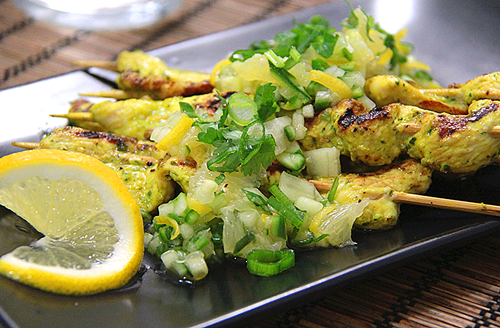 There was some excitement and concern with this dish. Was it going to be too sour? Maybe, but maybe not. Meyer lemons aren't your regular lemons. Regular lemons like the Lisbon and Eureka types you find at a grocery store are very tart and acidic.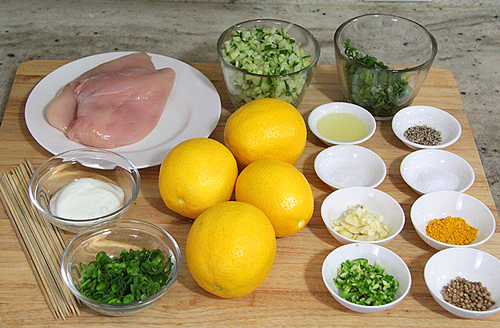 Meyer lemons are not like that.

Meyer lemons are a cross between a lemon and a mandarin, with a smoother-skin. They are sometimes bigger than a normal lemon. They are less acidic. Their zest and juice are herbal.

You can't eat them like an orange. But, usually, you will use less sugar than with regular lemons in your recipes.

I was willing to try this recipe. I couldn't imagine the taste. A typical salsa I make requires lime juice, but never lemon. In the beginning it was a little too sour. I needed to balance it out with some sugar and salt.
Once I got the right balance, it became addicting.

The salsa really went well with the marinaded chicken skewers I made. I loved the flavors as they mingled together. The coriander seeds with the lemony spicy salsa were amazing.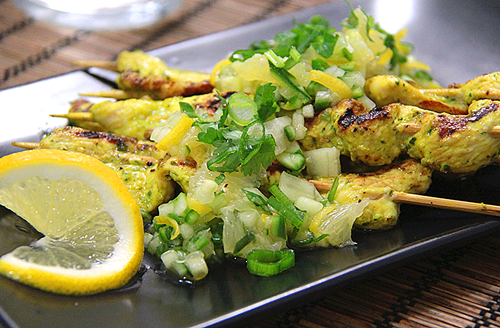 | | | |
| --- | --- | --- |
| Meyer Lemon Week: Grilled Chicken with Meyer Lemon Salsa | | |
Recipe type:
Mains, Sauces
Prep time: 45 mins
Cook time: 10 mins
Total time: 55 mins
Ingredients
8 Meyer lemons
½ cup finely chopped English hothouse cucumber
3 Tbsp thinly sliced scallions, divided
1 Serrano chile (with seeds), finely chopped
Pinch of sugar
Kosher salt
1½ pounds skinless, boneless chicken breasts, cut into 1½" x ¼" strips
Freshly ground black pepper
¼ cup + 2 Tbsp chopped fresh cilantro
¼ cup plain whole-milk yogurt
1 Tbsp vegetable oil
2 garlic cloves, coarsely chopped
1 tsp cracked coriander seeds
1 tsp turmeric (optional)
Instructions
Using a sharp knife, cut all peel and white pith from lemons. Discard.
Working over a medium bowl, cut between membranes to release segments into bowl. Squeeze in juice from membranes and discard membranes. Strain juice into another bowl.
Combine segments, 1 tablespoon strained lemon juice (reserve remaining juice for another use), cucumber, 2 tablespoons scallions and chile in a small bowl. Mix well.
Stir in sugar.
Season salsa with salt and set aside.
Place chicken in a medium bowl and season with salt and pepper.
In a mini-processor or blender, purée ¼ cup cilantro, yogurt, vegetable oil, garlic, coriander and turmeric.
Pour marinade over chicken. Toss to coat. Let marinate at room temperature for 20 minutes.
Can also be made 1 day ahead. Cover and chill. Let stand at room temperature for 30 minutes before continuing.
Grill skewers over medium-high heat on a gas grill or over medium heat on a charcoal grill.
Transfer skewers to plates.
Spoon Meyer lemon salsa over chicken.
Garnish with remaining 2 tablespoons cilantro and 1 tablespoon scallions.
Enjoy!
I kept on wanting to eat more and more. It was really flavorful and filling.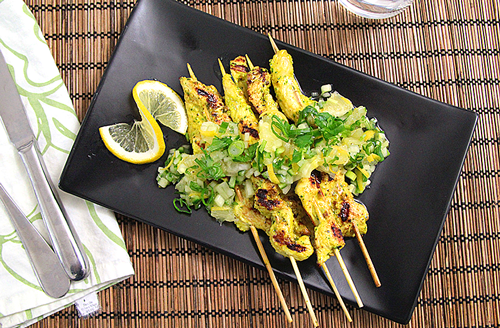 It was a great way to use Meyer lemons. It's so simple, I can't wait to make it again.
Facts about Meyer lemons were found in: http://www.finecooking.com/articles/lemon-varieties.aspx
Recipe adapted from: http://www.epicurious.com/recipes/food/views/Chicken-Skewers-with-Meyer-Lemon-Salsa-380587