C – Is there a Mexican vegetable dish we could cook?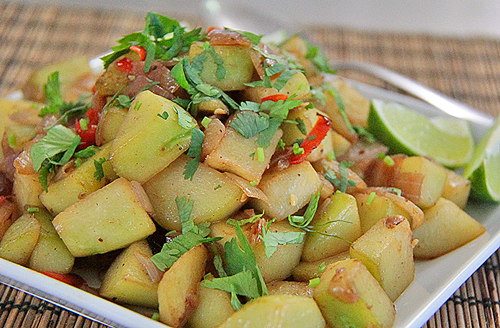 Let us know, because this subject was a challenge for us. Luke was looking through a Mexican grocery store's circular. His idea was grilled zucchini with a cilantro vinaigrette. Jim and I thought something called Italian zucchini from a Mexican grocery store might not be the right thing to make.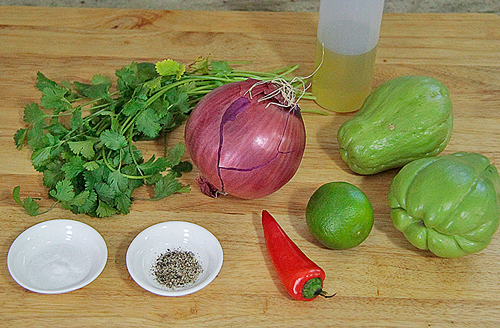 But we were stuck. There had to be more than just peppers, onions, tomatoes and tomatillos. What else?

Chayote squash was a vegetable I have seen, also jicama. Now my problem became really easy. I use these in Cambodian cooking all the time.

Since I only had one spot to fill for this week on Mexican dish with vegetables I decided to use chayote squash.

I love chayote squash because it's so versatile. You can eat them raw, sauteed or grilled. You just need to peel the waxy peel and pit it. I usually cut them in to thin strips to saute them. They get tender after a few minutes.

Chayote squash doesn't have a very distinguishing flavor. But, it absorbs anything you season it with. I cut them differently this time … into big chunks. They have to be cooked a little longer to be tender.
This saute was great and very simple. Cook with some onions and chilies. It's great to have with chicken as a side dish.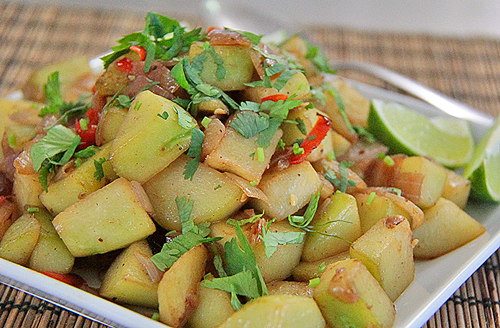 | | | |
| --- | --- | --- |
| Mexican Week 2015: Chayote Squash, Onion, Fresno Chili Saute | | |
Prep time: 15 mins
Cook time: 10 mins
Total time: 25 mins
Ingredients
1 Tbsp of grapeseed oil
2 Chayote squash, peeled, seeds removed cut into ½ inch cubes
½ red onion, cut into ½ inch pieces
1 Fresno chili, chopped
Salt and pepper to taste
Lime juice to taste
Cilantro for garnish
Instructions
In a large saute pan, add oil and heat on medium high heat.
Add Chayote squash. Cook for about 5 minutes until tender.
Add red onions, chili, salt and pepper to taste. Cook for 2 to 3 minutes. If saute looks a little dry add a few tablespoons of water. Saute until water has absorbed.
Remove from heat.
Drizzle lime juice over top and mix well.
Sprinkle chopped cilantro over top.
Serve.
Enjoy!
I am so glad I remembered how to use Chayote squash. If anyone has any other Mexican vegetable ideas for recipes please let us know.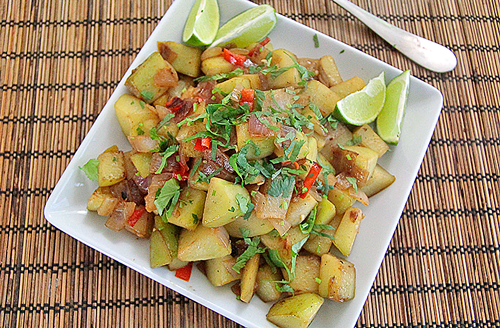 We love discovering how to use other culture's vegetables … sometimes challenging. But, we love the challenge.