C – Sometimes my big mouth and my awareness get the best of me.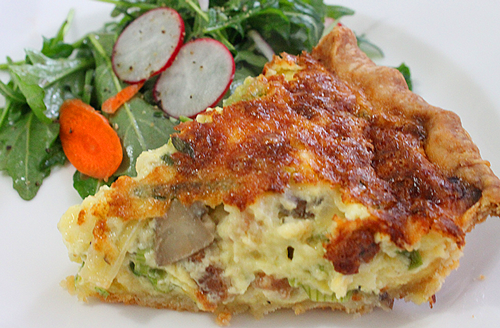 They run off and leave me behind. This happened a few days ago. Our friend Ken came over and I wanted to make him lunch. My big mouth didn't know I was taking on too much. I was committed to making a quiche. It was a BIG mistake. The dreaded pie crust didn't work out as planned. I had to start all over again. I freaked out. It was 30 minutes until lunch and there wasn't going to be a lunch!
The crust completely broke. It had a hole in it. It wasn't going to work. I made the mistake of using regular aluminum foil instead of nonstick or parchment paper when par-baking it. Of course, Ken had to chime in and asked if I had any parchment. Of course, I did! I was sad, a bit angry and really frustrated. It would take two more hours until lunch. I bet Jim and Ken were already starving. I know I was.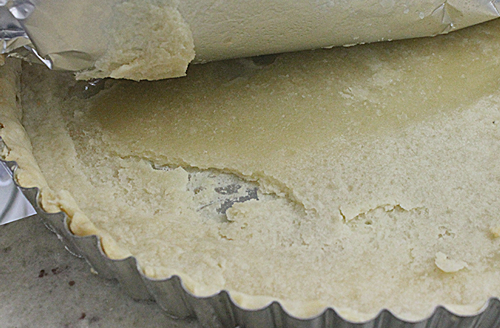 After I took a big breath and told Jim and Ken it would be a couple of hours, I started over. This time I did the crust better than before. For some strange reason the first crust didn't look right to begin with. The butter just didn't distribute evenly. I must have been in a hurry and didn't think about the end result. It makes sense now why the crust fell apart. This time I am going to be more aware.

Thank goodness I listened when Jessica was showing me how to make pie dough. She mentioned I could freeze the dough for a bit if I didn't have time. It's not the ideal way of using dough, but it worked. I couldn't wait.

I had to make this quiche. So 15 maybe 20 minutes in the freezer and I was ready to roll it out. Another 20 minutes in the freezer after it was rolled out and I was ready to bake another crust. This time with non-stick aluminum foil. I wasn't taking any chances. I really didn't expect this dish to be so daunting. After baking the crust I cooked the bacon and sautéed the vegetables.

Layers! I loved that I was able to layer everything. It was great. I got to make sure every bite had something in it. So was it worth the wait? I had to cross my fingers, hoping it wasn't going to be over cooked. It wasn't. It was perfect. Nice flaky crust. Nice custard with the prefect amount of salt from the cheese and bacon and sweetness from the sauteed leeks. I liked it.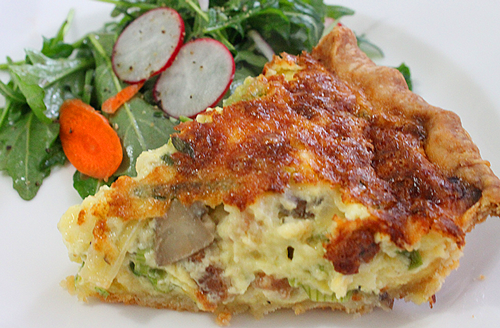 | | | |
| --- | --- | --- |
| Leek Mushroom Bacon Quiche | | |
Prep time: 20 mins
Cook time: 1 hour 15 mins
Total time: 1 hour 35 mins
Ingredients
One 9-inch pie pan
Pastry dough, prepared and chilled, for lining the pan
½ pound, slab bacon, rind trimmed, cut into cubes
½ cup chopped leeks (white and pale green parts only)
½ cup chopped onions
1 cup button mushrooms, sliced
Salt and pepper to taste
3 eggs
2 egg yolks
¾ cup milk
1 cup heavy cream
1 tsp thyme, chopped
6 ounces Gruyere cheese, shredded
Instructions
Preheat oven to 425 degrees.
Roll pie dough to fit a 9 inch pie plate.
Place crust in pie plate and chill for at least 20 minutes before baking.
Line the chilled pie crust with foil and fill halfway up with dried beans, rice or baking weights.
Bake in the preheated oven for 7 minutes.
Remove foil and weights and bake until golden brown, about 5 minutes.
Reduce oven to 325 degrees.
Cook bacon in a saute pan over medium heat until browned and cooked through, 8 minutes. Remove from pan to drain.
Blot some of the oil from the pan, leaving 1 to 2 teaspoons. Add leeks, mushrooms, onion, salt and black pepper. Cook and stir until tender and browned, 5 to 7 minutes. Set aside.
In a medium bowl, whisk eggs, egg yolks, cream and milk together. Add thyme and stir to combine.
Sprinkle ⅓ onion-leek mixture, ⅓ bacon, ⅓ cheese on the bottom of the baked crust.
Ladle ⅓ of the egg mixture.
Sprinkle another ⅓ of each mixtures into the pan.
Ladle ⅓ of the egg mixture.
Pour the remaining mixtures on top, finishing off with the egg mixture.
Bake quiche in preheated oven until browned and set. Quiche should no longer be jiggly in the center, 40 to 45 minutes.
Allow to cool slightly.
Serve with a fresh salad.
Enjoy!
Jim said it was one of the best quiches he's ever eaten. I was glad. He's been asking me to make one for a while. Ken liked it too. He even asked to take some home. I was happy to oblige.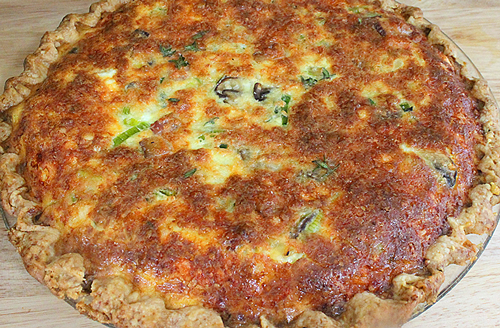 Thanks Ken and Jim for being so patient. I learned that I have to be more aware of the techniques so I can get good results.
Adapted from: http://allrecipes.com/recipe/chef-johns-quiche-lorraine/detail.aspx