C – Jim's friend Murray loves sweetbreads.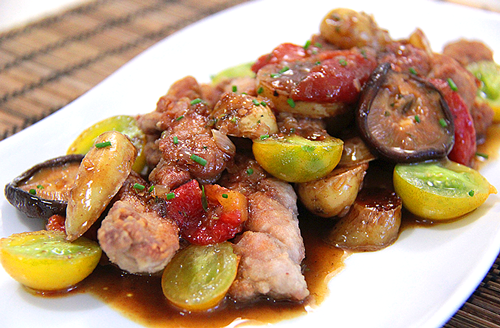 I have never had them. I wanted to know what the fuss was all about. The first time someone mentioned it, I thought they was some sort of Hawaiian bread. Nope. Not even close. It's the thymus gland of an animal.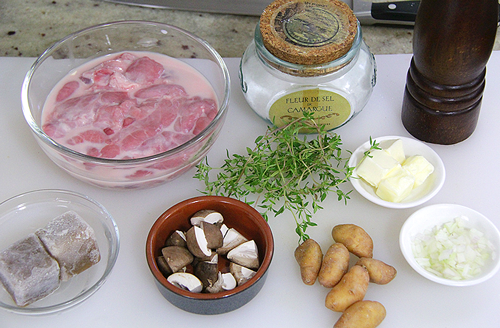 I guess sweetbread is a more graceful way of eating a thymus gland at a fancy restaurant.

Luke and Jim were excited because Luke got a call that lamb sweetbreads were available. I couldn't wait … and I was a little reluctant. All the hype might not be worth it. I am hoping it is worth it, since there was so much hype.

After soaking the lamb sweetbreads in milk over night to remove the tannins, we poached them. Removed any ugly pieces of the skin. It was tougher than I thought to remove ugly parts. You really have to be careful not to shred the entire piece of sweetbread. Luke always seems to make it look easy. This was a lot of work for me. I was glad we didn't have to make a large batch of these.

Once we finished, we dredged them in flour and cooked them in a pan. It was interesting to see the technique for not making these sweetbreads tough. We only poached them to medium rare. Then, we just had to sear the outside after we added flour. We did the potatoes, mushrooms and Marsala wine in a separate pan.

For my first experience with sweetbreads, I really liked them. Why wouldn't you like from an expensive and rare treat like lamb sweetbreads? They were nice and tender on the inside. The poaching liquid really shined through. It was perfectly salted and flavored. I loved the crispy outside. Luke had a different opinion. He liked them, but said it really wasn't worth all the trouble to use lamb sweetbreads. He said they weren't crispy enough and wanted to do a redo.
One thing that surprised all of us was not tasting any lamb in them. I think it was because we soaked them in milk the night before. Or, it might be because the lamb sweetbreads were so fresh.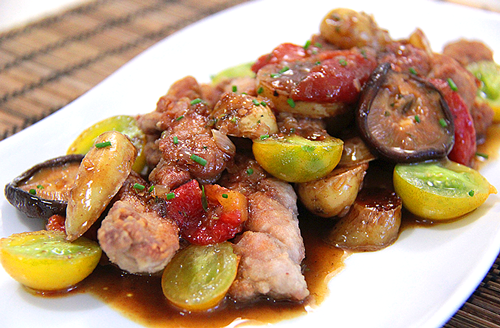 | | | |
| --- | --- | --- |
| Lamb Sweetbreads with Pan Seared Potatoes and Shiitake Mushrooms | | |
Prep time: 1 hour
Cook time: 20 mins
Total time: 1 hour 20 mins
Ingredients
½ pound lamb sweetbreads
1 cup milk or enough to cover sweetbreads
½ bunch thyme
½ cup white wine
20 whole black peppercorns
1 Tbsp kosher salt
1 bay leaf
5 shiitake mushrooms, stem removed
3 fingerling potatoes, cut on a bias
6 mini heirloom tomatoes, cut in half
3 small, oven-roasted tomatoes, sliced thinly
1 Tbsp butter
4 sprigs thyme
2 Tbsp chicken jus
3 Tbsp canola
½ cup all purpose flour
2 Tbsp Marsala
½ shallot, small dice
Small bunch of chives, chiffonade, for garnish
Instructions
Soak sweetbreads in milk. Cover and place in the refrigerator overnight.
When ready, remove sweetbreads from milk and discard milk.
Fill a medium sauce pan with water and bring to a boil. Add thyme, wine, peppercorns, salt and bay leaf.
Place lamb sweetbreads into pot and simmer for 4-5 minutes. Cook until medium rare. They should be slightly soft when you check. Remove and strain sweetbreads from poaching liquid.
Let cool slightly, remove any excess skin from the sweetbreads. Be careful to make sure not to tear the sweetbreads. Pat dry.
In a small saute pan on medium high heat, place 1 teaspoon of butter into pan. Let melt. Add potatoes cut side down. Cook until golden brown. About 3 minutes. Turn over and cook skin side down. Add 4 sprigs of thyme to the pan and toss to flavor potatoes. Turn of heat and set aside.
In a separate saute pan, place jus and heat on medium high heat. Add mushrooms. Cook for about 3 minutes until warm. Set aside.
Place flour in a small bowl. Add sweetbreads and toss until well coated. Dust off any excess flour.
In a large saute pan, heat canola oil on medium heat until hot. Place sweetbreads in pan. Make sure not to overcrowd pan with too many. Cook both sides until golden brown. Discard any remaining fat from pan.
Return mushroom pan to medium high heat. When hot, take pan off direct flame. Then, carefully add Marsala into pan. Be careful since wine will create a large flame. Step back! Let flame burn off.
Add 1 tablespoon butter to pan. Add shallots and cook for about 1 minute.
Add jus and potatoes. Toss until evenly coated with sauce.
Add sliced, roasted tomatoes and toss briefly to combine.
Add sliced heirloom tomatoes to half of sweetbread pan, just to warm a bit. Move sweetbreads aside. Do not mix.
Place potato and mushroom mix on a platter with some of the roasted tomatoes and part of the jus.
Place sweetbreads over top.
Add heirloom tomatoes, roasted tomatoes and rest of the sauce.
Garnish with chives is desired.
Serve.
Enjoy!
After a redo, Luke liked them a lot better. The second version was crispier since we kept the sauce, potatoes and mushrooms separate until the very end. We also added some mini heirloom tomatoes and some sliced, oven-roasted tomatoes.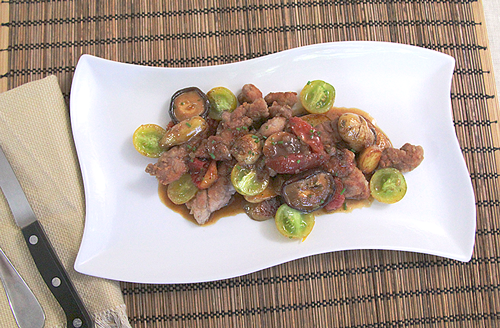 Second time is the charm, I guess. Thanks, Luke, for making these. I can see why Murray likes them so much.