C – Sometimes, even simple recipes can be a challenge to get the perfect flavor balance.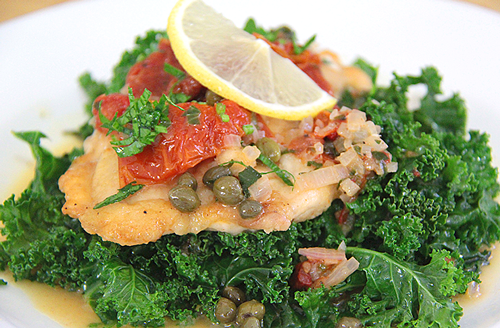 This was the case with this Chicken Piccata dish. A simple dish of chicken, lemon, capers and wine can go wrong quickly, if you put too much of any of these things together.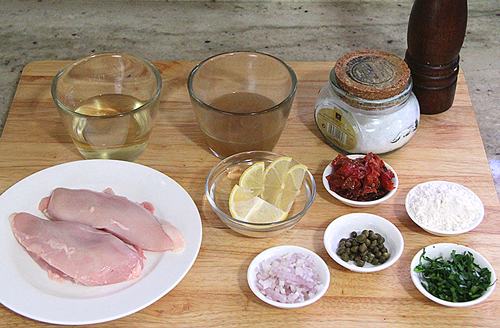 The first try, I followed a recipe Jim found somewhere. It looked good but didn't pass the taste test. Sour, really sour. I added too much lemon and nothing else.
I tried it again that evening for dinner with a few changes. I served it to my boyfriend. He said "Thanks for the sour chicken. It's good. A little too sour for me, but it's edible." Of course, my kind boyfriend is a bit too nice to tell me he didn't like it.
I needed to do some research, make a few changes and make it again. I really needed to get rid of the sour taste and make it balanced. Some recipes added some chicken stock instead of wine. But, I like the wine taste. I thought if I added half wine and half stock, it would be a good balance.
I didn't know capers were tart. I always thought they were salty not tart. Jim suggested rinsing them before adding them to the dish. I think using less lemon in the cooking process, and placing a slice on the dish when serving would be better. Then, if anyone wanted to add more they could. Lastly, adding some butter to round out the flavors a little bit would really help.
The taste test. It was good and looked really pretty, too. We added a few of our favorite oven roasted tomatoes (add hyperlink). It was looked even prettier and added an additional sweet taste.
The dish was finally balanced. Tart from the lemon and capers, a great savory quality from the stock and the chicken. The wine and tomatoes made it sweet. I liked it. Finally a decent chicken piccata.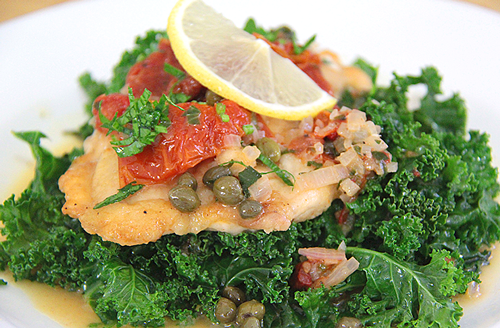 | | | |
| --- | --- | --- |
| Italian Week: Chicken Piccata | | |
Prep time: 10 mins
Cook time: 10 mins
Total time: 20 mins
Ingredients
1 Tbsp grapeseed oil
2 boneless skinless chicken breasts
Enough flour for coating the chicken
Salt and pepper to taste
½ cup white wine
½ cup chicken stock
1 shallot, minced
4 halves oven roasted tomatoes (recipe below)
¼ fresh lemon juice, plus slices for garish
2 tsp capers, rinsed
1 Tbsp butter
2 sprigs parsley, chopped
Cooked pasta
Instructions
Place one chicken breast at a time in a plastic zip lock bag. Using a meat tenderizer, flatten the chicken breast until it is ¼ inch thick. Repeat with the other chicken breast.
Mix flour, salt and pepper together on a flat plate. Place chicken pieces on plate and lightly coat both sides with flour.
In a large saute pan, place oil and heat on high. Once oil is hot, place chicken and cook chicken until golden brown on each side. About 3 minutes. Remove chicken from pan and set a side.
Add wine and cook until alcohol is gone. About 30 seconds to 1 minute.
Add stock to pan and mix well.
Add shallots and tomatoes to pan. Cook for 30 seconds.
Add capers to pan and mix well.
Add the lemon juice into the pan. Mix well.
Add butter and let dissolve.
Add salt and pepper to taste.
Finish with parsley.
Add the chicken back into the pan to reheat.
Serve on top of pasta or sauteed kale.
Enjoy!
Fast, simple and easy. Made in under 20 minutes and, now, with a good balance.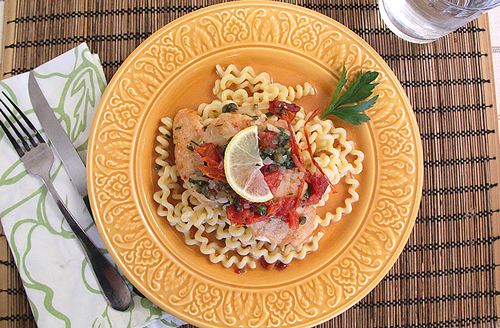 Try it. It's really good.