C – I think I make a good bolognese sauce.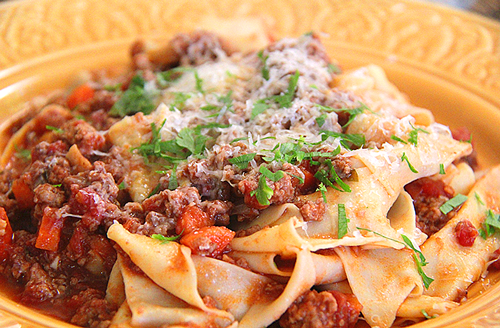 And, I know it can be better. There just seems to be something missing. Something seems to be off about my sauce. I just can't put my finger on it.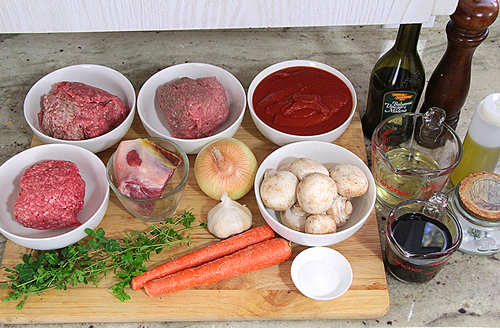 I did my research. Most bolognese sauces are similar. Meat, vegetables, garlic and some wine. It's similar to the one I make. I just wanted something more.

So I had to check with a professional. Luke, you're up.

Of course, Luke knew what I was talking about. It's that umami flavor that I was missing. Something super savory and indulgent.

Luke's bolognese has a lot more than just meat, vegetables, a ton of garlic and wine. It's also expensive. But, it's really, really good.

To start with, he uses three types of meat, chunky vegetables, a good amount of herbs and two types of wine. But, the most important ingredient is a big hunk of prosciutto.
That prosciutto has changed my life. If you make this recipe, get ready for the most decadent sauce.

Luke, of course, wanted to make homemade pasta to make it even better. And, it was. There are a lot of ingredients in the recipe. Everything blends well. There isn't anything that overpowers in this sauce. It's well balanced. Sweet, salty, sour and savory.
I loved how there was a perfect ratio of sauce to meat to vegetables. It was perfect.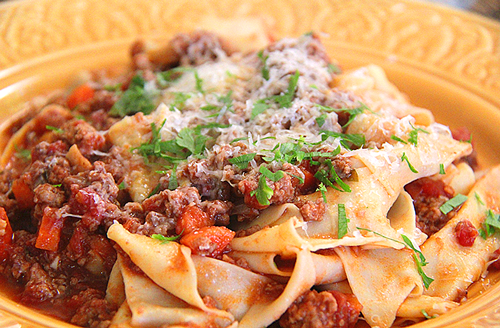 | | | |
| --- | --- | --- |
| Italian Week: Bolognese Sauce | | |
Recipe type:
Mains,Sauces,Techniques
Prep time: 40 mins
Cook time: 4 hours
Total time: 4 hours 40 mins
Ingredients
Olive oil as needed
¾ ground pork
¾ ground beef
¾ ground veal
½ pound prosciutto
2 carrots, peeled and chopped
1 yellow onion, chopped
¾ pound mushrooms, quartered
1 head garlic, minced
1 Tbsp + 4 tsp sugar, divided
1½ cans (42 oz) diced tomatoes
1 Tbsp parsley, minced
¼ cup oregano, minced
1 cup dry red wine
1 cup dry white wine
Salt and pepper to taste
2 oz + 1 Tbsp balsamic vinegar
1 can tomato paste
½ tsp red chili flakes
Instructions
Add olive oil to the bottom of a large heavy pot.
Add pork, beef and veal.
Add prosciutto in whole.
Add 1 tablespoon salt and pepper
Stir and let brown for about 10 to 15 minutes.
Once browned, remove the meat and drain the fat.
Add more oil to the same top. Add carrots and onions. Let soften.
Add meat back into the pot.
Add red wine. Let wine cook off.
Add garlic, mushrooms, diced tomatoes, tomato paste, 2 teaspoons of sugar, 2oz balsamic vinegar and white wine.
Let it reduce on low for 2 to 3 hours.
After 1½ hours, remove prosciutto from pot. Chop roughly and place it in a food processor. Puree. Then, add it back into pot and continue to cook.
After 3 hours, taste the sauce. We added more balsamic, sugar, salt and pepper to taste.
Add red pepper flakes
Once done, let cool and sit overnight. It gets better the longer it sits.
Serve with homemade pasta.
Enjoy!
Homemade Pasta recipe
Of course, you really can't tell how good it is until the next day. It gets better the longer it sits. So worth the wait.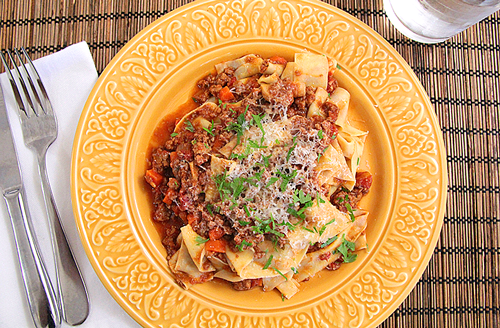 Thanks, Luke, for showing me how to make this great bolognese sauce.