C – We have a big concern in the Be Mindful. Be Human. kitchen that recipes won't come out as planned. It happens. We try not to let it happen often. It's a part of discovery and experiencing new techniques.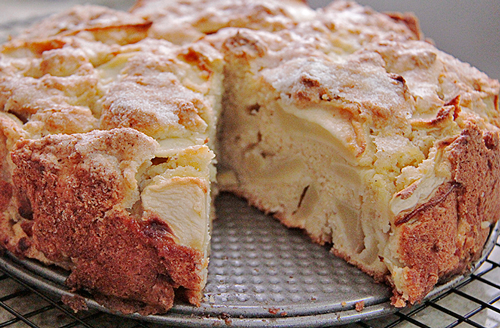 I guess I can't live in fear of making mistakes. I just have to accept them, learn from them and move on.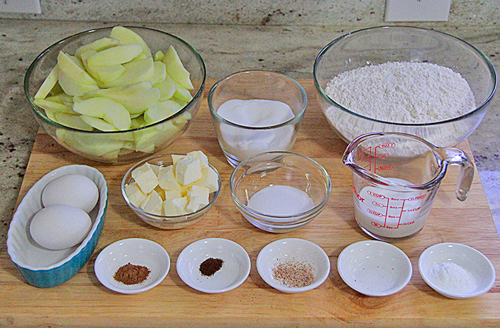 Luckily, this recipe didn't go wrong. If it had, I wouldn't have cared much since it wasn't an expensive experiment. Also. it didn't take long.

So, if I did mess up, I wouldn't have felt bad taking time out of Jim's hectic schedule to shoot.
This Irish apple cake was a strange one. I really wanted to experiment with it. If it worked, I would have a new baking technique. If it didn't work I would have a bad mess on my hands. Luckily it worked.

Yay! New technique! It was an interesting experience making this cake. There weren't a lot of wet ingredients. I had to use a food processor instead of a stand mixer to start. Then, I had to mix everything with my hands to finish the cake.

I don't think I have ever used my hands to make a cake. It was a sticky mess and it didn't cover all the apples. I had to use a little water to coat my hands, so they would stop sticking to the batter.

Popped in the oven and magic started to happen. All the baking powder and eggs expanded and the batter turned into a beautiful rustic apple cake.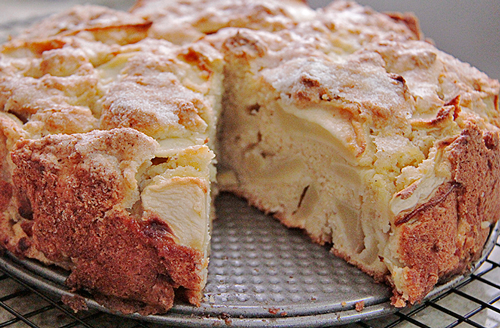 | | | |
| --- | --- | --- |
| Irish Week: Irish Apple Cake | | |
Prep time: 10 mins
Cook time: 55 mins
Total time: 1 hour 5 mins
Ingredients
3 cups all-purpose flour
2 tsp baking powder
⅛ tsp salt
⅛ tsp ground cloves
⅛ tsp nutmeg
¼ tsp ground cinnamon
1 stick (½ cup) butter
¾ cup sugar
4 Granny Smith apples, peeled and sliced into thin wedges
2 large eggs
¼ cup milk
2 Tbsp granulated sugar for topping
Instructions
Preheat oven to 375 degrees
Spray 8 or 9″ round, spring-form baking pan with cooking spray
Place flour, baking powder, salt, cloves, nutmeg and cinnamon in a food processor. Pulse a few times until well mixed.
Add butter into dry mixture. Pulse mixture a few times until it resembles fine bread crumbs.
Add ¾ cup sugar and pulse until mixed through.
Remove mixture to a large bowl.
Add apples and toss in the flour mixture until apples are well coated.
In a separate small bowl, beat eggs and milk. Add to apple/flour mixture.
Toss and stir well to fully moisten flour. Should result in a very sticky dough.
Transfer to the prepared pan.
Flatten and smooth top surface with wet your hands. It makes it much easier.
Sprinkle with remaining sugar.
Bake 45 to 55 minutes or until toothpick test is clean.
Cool on wire rack.
Serve.
Enjoy!
The cake was delicious. Large pieces of apples embedded into the cake, with lots of flavorful spices throughout. Moist and delicious.
I can't wait to try this new technique on other fruits. It's a great and easy cake to make.
Adapted from: http://www.kleinworthco.com/2014/03/irish-apple-cake.html/2