C – Is that how you make ragu?!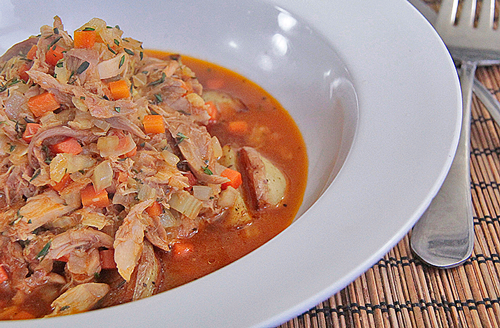 I was quite a bit surprised at how a ragu sauce is made. It's a lot simpler than I thought it was going to be. I always thought ragu was a tomato sauce with lots of meat, that you simmered for hours. I was completely wrong.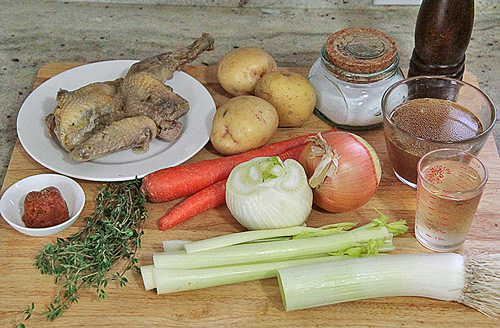 "Get the plates ready. This is going to go fast." Luke had to warn me it was going to go fast. I had to pay attention or I would miss it. He was right. The potatoes took longer to cook than the ragu.

I always thought a bolognese sauce was the same as a ragu. It's not. A ragu is with meat that is braised beforehand. Then, the meat is shredded and vegetables, wine and some tomato paste are added.

A good ragu doesn't have broken down vegetables. You really taste everything in the dish. The vegetables are still a little crispy.

In a bolognese sauce, you cook the raw meat with all the vegetables together until everything is infused. Both can be served with pasta. Ragu can also be served with potatoes and bread.

I really love that ragu was so easy to make. Especially, when you have a lot of braised meat still left over from your previous dish.

We knew that yesterday's braise would be leftover … uh, maybe we made sure to have it leftover. It was for this dish.

I love the flavor combination. Something about white wine, a hint of tomato paste and braising liquid that mingles so well together. Nothing is too predominate. Add roasted potatoes to the dish and the ragu sings in your mouth. It's a great combination.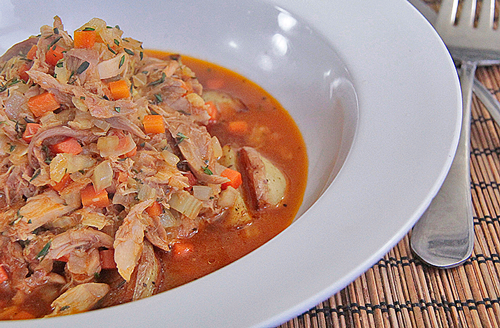 | | | |
| --- | --- | --- |
| Holiday Fowl Week: Guinea Fowl Ragu | | |
Prep time: 20 mins
Cook time: 20 mins
Total time: 40 mins
Ingredients
½ Guinea Fowl, bones removed and shredded
Canola oil
½ leek, chopped
1 carrot, chopped
½ fennel, chopped
½ onion, chopped
1 Tbsp tomato paste
½ bunch thyme, stems removed
5 Tbsp white wine
3 Yukon Gold potatoes
Braising liquid
Salt and pepper to taste
Instructions
Strain braising liquid. Place in a pot and boil it. Reduce into a thick jus.
Preheat oven to 350 degrees.
Heat a saute pan on high with 2 tablespoons of canola oil.
Add potatoes, salt and pepper. Cook until golden brown on one side. Stir a couple of times. Place in the oven until fully cooked. About 10 minutes.
Heat a saute pan on high with oil.
Add carrots, cook unitl al dente about 1 minute.
Add fennel, cook for a minute.
Add onions and leeks.
Add wine and tomato paste. Mix well.
Add guinea fowl.
Add thyme.
Add 1½ cup jus.
Stir briefly and let reduce to a desired thickness. Don't stir too much or it will break down the meat. You want whole chunks of meat.
Place potatoes on the bottom of the serving platter.
Make a mountain of potatoes in the middle.
Ladle ragu over the top, sprinkle more thyme over top.
Serve with bread.
Enjoy!
I am glad I know what ragu is now. I am also glad I can make ragu with anything braised.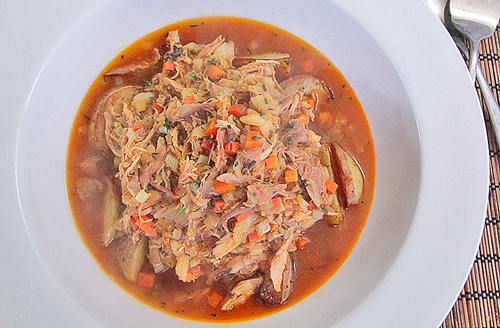 I can't wait for the next thing to braise. I can create a whole other dish with it. I am so excited.