C – When Jim mentioned another duck week, I was kind of excited.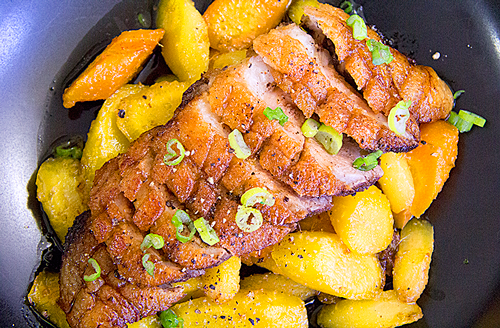 When he mentioned not making anything similar to Chinese versions of duck, I was a bit let down. What's wrong with wanting an Asian-inspired duck? I don't know, but I managed to sneak in one at the very end.
Oh well, sneaky me. Jim still liked this Asian-fusion dish.

I am glad I didn't really have to go through making Peking duck like you find at a fast food place. This recipe is definitely more refined and extremely simple. Of course, it's not exactly like the ducks that hang in the window at a Chinese fast food place. Those ducks take 2 to 3 days to make. That's why they are so good and crispy.

The pan searing method I learned from Luke a while back really worked in getting the skin to be extra crispy. Its a great technique.

One thing that is similar to the Chinese fast food places is the seasoning. I used a lot of Chinese five-spice in this recipe. It was way more than I thought I should use. But, it really worked out well. The flavorful duck mingled well with the sweet sauce. It was delicious.

The carrots were also perfect company for the meat and sauce. Nice tender carrots with a bit of spiciness from the ginger. Balanced perfectly with the lime and salt I added.

It was a great dish.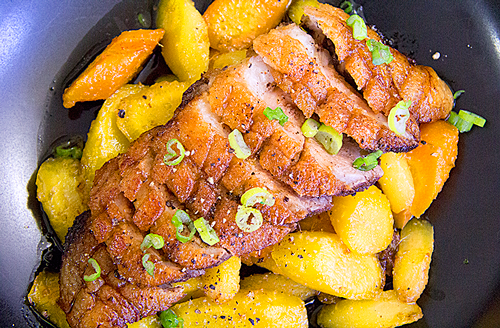 | | | |
| --- | --- | --- |
| Holiday Duck Week: Crispy Duck Breast with Glazed Carrots | | |
Prep time: 15 mins
Cook time: 18 mins
Total time: 33 mins
Ingredients
1 pound Heirloom carrots, peeled and sliced on a bias
3 Tbsp unsalted butter
2 tsp sugar
1 one inch ginger, peeled and grated
Salt and pepper to taste
1 lime, zest and juice
2 boneless, skin-on duck breasts, skin scored in a cross hatch pattern
2 tsp Chinese five-spice powder
Salt and pepper to taste
3 Tbsp soy sauce
2 Tbsp white sugar
1 Tbsp honey
Salt and pepper to taste
1 lime, zest and juice
Instructions
In a medium saute pan on medium high, place butter and let melt.
Add carrots, sugar, ginger and ½ cup water. Mix well. Cover pan with lid.
Bring to a simmer and cook until tender, about 10 minutes.
Uncover and cook until liquid is reduced to a thick glaze, 1 to 2 minutes.
Stir in the lime juice and zest. Remove from heat and keep warm.
Season the flesh side with salt, pepper and Chinese five-spice.
Place duck skin-side-down in a saute pan over medium-high heat. Cook until fat is completely rendered, about 7 to 8 minutes.
Flip over and cook the flesh side for about 3 minutes, or until instant-read thermometer inserted into thickest part reads 130 degrees.
Transfer duck to cutting board. Let rest for 10 minutes.
Slice at an angle and on a bias.
Add all the ingredients, except lime juice and zest, into a sauce pan and cook until thickened. About 3 to 4 minutes.
Add lime juice and zest. Mix well.
Place carrots on the bottom of the plate.
Place cut duck breast over the top of the carrots.
Drizzle sauce.
Serve.
Enjoy!
I am so glad Jim liked this dish.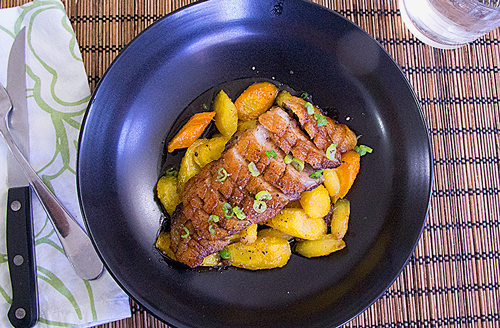 Maybe next time, I won't have to secretly twist his arm to get an Asian twist on the menu.
Adapted from: Saveur Magazine, December 2013 issue.