C – I am superstitious … I mean really superstitious.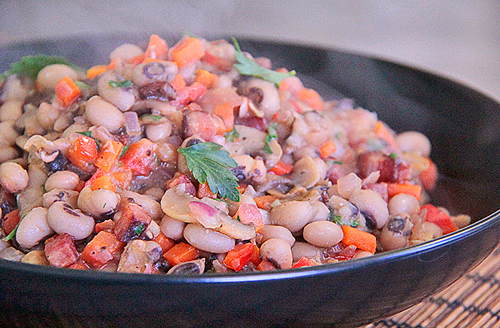 You tell me that something will bring me luck, or is unlucky, and I will follow that rule. When I heard that black-eyed peas were lucky when eaten on New Years Day, I knew I needed to make it a tradition. Last year, I didn't find out about this lucky tradition in time. I knew I needed to remember it for this year.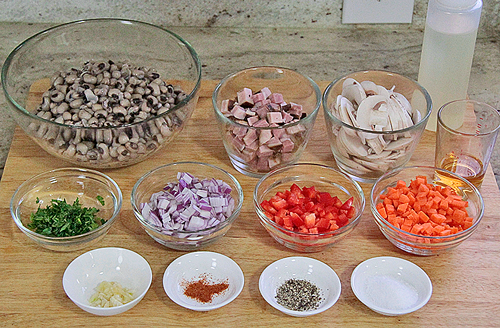 I'd never heard of this tradition. It's Southern. The tradition dates back to the Civil War, when food was scarce and the only thing they had was black-eyed peas and ham hocks. People were able to survive throughout the winter.
Black-eyed peas are known for their abundance and good fortune. I always want abundance and good fortune. So, I figured I should make something with black eye peas today.

The typical black eyed peas dish requires ham hocks. I couldn't find any good tasting ham hock … and it's healthy eating week. So, I thought I would change it up a little. Instead of ham hock with black eyed peas, I wanted to use Jim's homemade bacon for this. If you're vegetarian, skip this part.

I ended up splurging and eating it with bacon. It's kind of the best part. There's just something about the texture of bacon and black eyed peas that make this an amazing dish. All you need is a little bacon fat to make this dish really delicious.

I added lots of vegetables to make this dish amazing. I love the crispy vegetables along with the smoky bacon and creamy black eyed peas. It's delicious and really easy to make … as long as you have the black eyed peas cooked already.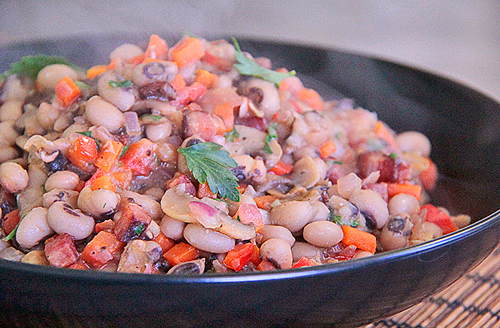 | | | |
| --- | --- | --- |
| Healthy Eating Week 2015: Bacon and Black-Eyed Peas Salad | | |
Prep time: 15 mins
Cook time: 18 mins
Total time: 33 mins
Ingredients
2 slices bacon, chopped
1 Tbsp grapeseed oil or canola oil
2 carrots, peeled and chopped
½ red onion, chopped
2 cloves garlic, minced
½ red bell pepper, chopped
4 cups cooked black-eyed peas
2 jus cubes or 2 cups stock that has been reduced to 2 Tbsp
1 Tbsp parsley, chopped
2 Tbsp white balsamic vinegar
Salt and pepper to taste
A pinch cayenne
Instructions
In a medium saute pan, place a small about of grapeseed oil to the pan and add the bacon pieces. Cook until bacon is crispy. About 7 to 10 minutes on medium low heat. Remove bacon pieces from pan and drain on a piece of paper towel.
Remove a few tablespoons of bacon fat from the pan, leaving about 1 tablespoon of oil in pan.
Add carrots to the pan and cook on medium high heat for about 3 to 4 minutes. add red onion and garlic into the pan and cook for about 2 minutes.
Add bell peppers and cook for another two minutes.
Add black-eyed peas into pan and heat until warm.
Add jus, salt, pepper to taste and parsley. Turn off heat.
Stir in vinegar. Mix well.
Serve.
Enjoy!
Make some black eyed peas today. Eat them and enjoy. Of course, good luck in the New Year.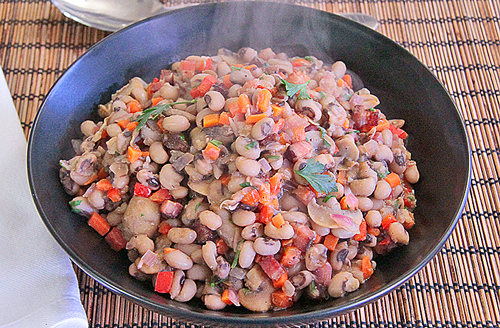 We hope everything goes as planned, or is even better than you expect it to be.