J — Luke's coming over with a salmon he just caught!
Christina got really nervous. "Is it still alive?!" Nope. "Better not be. I don't want a salmon flopping around the kitchen!"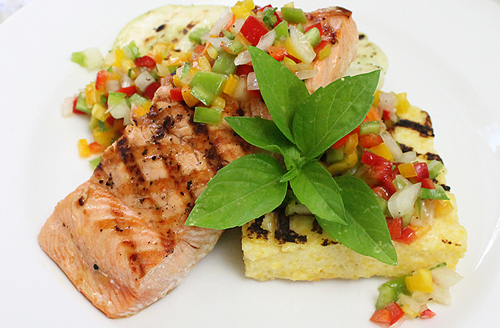 She had little to worry about, and lots to look forward to. A salmon doesn't live long out of water. Luke and I were about to cook a lunch with a salmon that couldn't be any fresher! It's nice Luke is into fishing, because I never was. We are going salmon fishing in a few weeks. It'll be interesting to see what Christina does when we catch one and it lands in the boat. I'll take pictures of what happens.
Deciding what to put together always seems to be a last-minute thing at Be Mindful. Be Human. We usually see what is fresh at the farmer's market or well-priced at the store. Today, we were lucky. We had the polenta and Luke brought the veggies..
We grab some pattypans for grilling from the box Luke got from Azolla Farm. Quick slicing. Salt and pepper and olive oil and we're ready. Seems like we're heading in a southwestern flavor direction.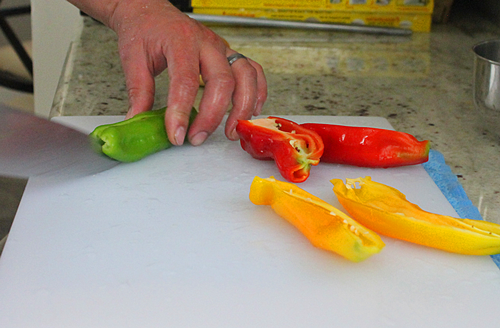 The long sweet peppers and cipollini onions will become a Pico de Pepper Salsa.
Luke broke down the salmon in short order. We'll show that in another post. After making the salsa and slicing the squash, grilling took just a few minutes. The grill should be on medium-high.

Start the salmon grilling skin-side-up and the seasoned side down. After rotating once halfway through, flip salmon to cook the other side. The skin will separate from the meat as it cooks. When done, gently slide the spatula between the meat and the skin. Lift salmon off the grill and plate artfully with the polenta and pattypans. Top with salsa.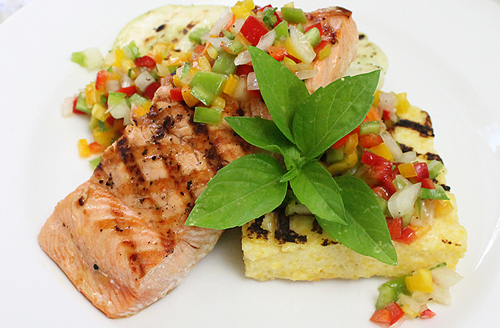 | | | |
| --- | --- | --- |
| Grilled Salmon with Pico de Pepper Salsa | | |
Prep time: 15 mins
Cook time: 10 mins
Total time: 25 mins
Ingredients
4 salmon filets, 6- to 7-ounces each, skin on
Grapeseed oil for the grill surface
Salt and pepper to taste
1 medium or 2 small pattypan squash per person, sliced in ½-inch rounds
2 Tbsp olive oil
Salt and pepper to taste
One 4-inch x ½-inch firm polenta square per person
Instructions
Lightly salt and pepper on non-skin side
Pre-heat grill to medium high, brush with grapeseed oil when hot
Place salmon filets on grill, skin-side-up. Rotate after about 3 minutes. Flip salmon to skin-side-down when halfway done, another 3 minutes
Leave filets in this position for about 2 to 3 minutes. Salmon is done when skin separates easily from meat when you slide the spatula between
Lightly salt and pepper the cut rounds, drizzle with olive oil
Place on grill with salmon. Rotate once and flip as they cook
Place on grill after pattypans. Rotate once and flip as they cook. You are just warming and grill-marking them, so they take less time
Start with polenta square
Overlap two or three pattypan rounds
Place salmon at an artful angle
Top with Pico de Pepper Salsa at room temperature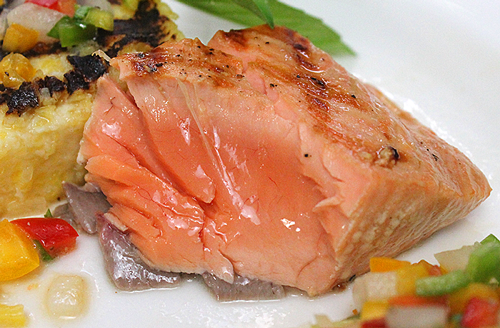 Perfectly cooked salmon. A nice balance with the freshness of the pattypans, the creamy grilled polenta and the zesty lime crunch of the pepper salsa.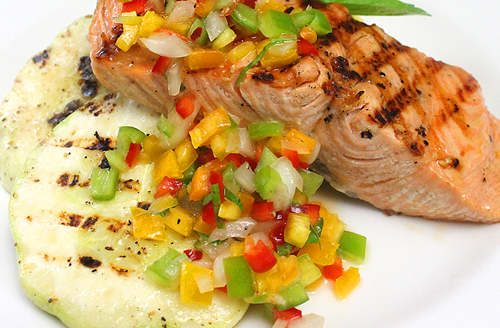 Nice lunch, Luke.