C – Sometimes we get great treats.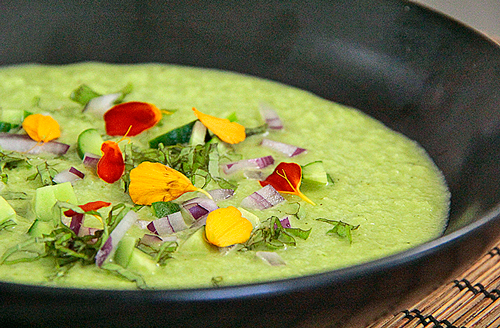 This time it was green tomatoes and a box full of fresh vegetables from one of Jim's friends. I haven't met her, but I like her already. Anyone who can grow an overly abundant garden and is willing to share is a wonderful person in my book.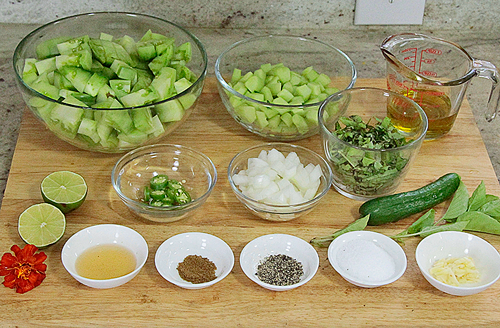 Now, my problem is what to do with all of the stuff she gave us. I am trying my best not to waste food lately. Anything we buy or receive, we must use and be grateful for. It is a practice that I have been doing for a while. With just two or three people eating, it can be a challenge to eat it all.

Luckily this week I have a few friends coming over to eat all the food in the house. Just kidding … sort of, I have twelve people coming over for a party and I have to feed them. I am so glad I can clean out the refrigerator and freezer as well as use the lovely stuff from the box.
One thing she gave us was lots of green tomatoes. Maybe, too many green tomatoes. I did make some pico de gallo and fried green tomatoes. I even tried pickling some and making chips out of others.

I don't think I will ever pickle them or make chips ever again. I don't like wasting good things and these recipes were unsuccessful and not good tasting at all. I ended up throwing them away.

Now, I know making a soup with them before they all go bad is the best option. This gazpacho was really easy to make. Place everything into a blender and blend until smooth. Serve with cucumbers, red onions, some marigold pedals and lunch is served. It was delicious and refreshing. I am glad I was able to use quite a few green tomatoes.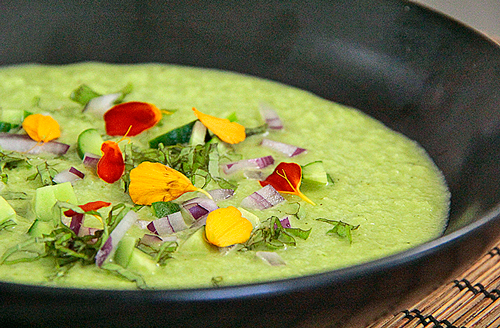 | | | |
| --- | --- | --- |
| Green Tomato Week: Green Tomato Gazpacho | | |
Prep time: 20 mins
Total time: 20 mins
Ingredients
2 pounds unripe green tomatoes, cored and cut into cubes
1 cucumber, peeled, seeds removed and coarsely chopped
2 cloves garlic, minced
1 small yellow onion, minced
¼ cup basil leaves, chopped
¼ cup olive oil
1 lime, juiced
2 tablespoons white balsamic vinegar
½ tsp ground cumin
½ Serrano chili, sliced
Salt and pepper to taste
2 Tbsp red onion, chopped
1 small cucumber, chopped
1 Marigold flower, pedals only (optional)
Instructions
Place green tomatoes, cucumbers, garlic, onion, basil leaves, oil, balsamic vinegar, cumin, chili, salt and pepper into a blender. Blend until smooth.
Place into a serving bowl or storage container (if not eating immediately) squeeze lime juice. Adjust seasonings if needed.
Garnish with more cucumbers, some red onions, Marigold pedals and black pepper.
Serve.
Enjoy!
I really want to thank Jim's friend for giving us these amazing boxes of vegetables. We are so grateful.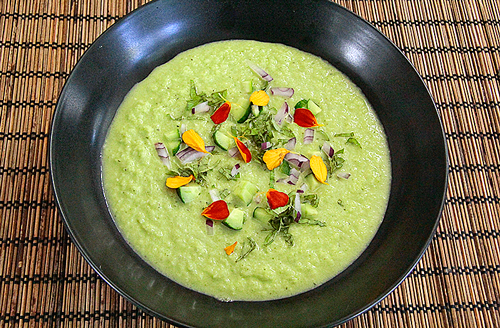 Thank you so much for giving us all these wonderful fruits and vegetables. You're an amazing gardener. Everything was delicious.