C – I need to make Greek food more often.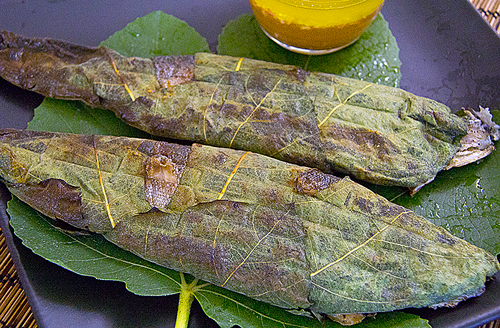 I have been missing out on all of these wonderful, healthy recipe all these years. After a week of discovering Greek dishes, I want more.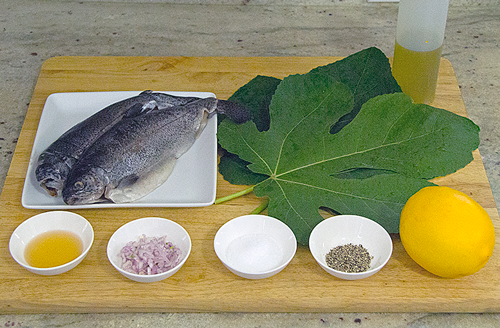 I've heard about the Mediterranean diet, but never looked into it. All I knew about Greek food was Gyros, Baklava, salads loaded with feta cheese and sometimes too much dressing.

I guess I was going to the wrong places to eat Greek food … or just haven't taken notice. Well, I am noticing now.

Fish is one thing I really noticed. Simple ingredients that really bring out great flavor. Like this trout wrapped in fig leaves. It's different, yet really simple to make.

The fig leaves allows the fish not to stick on the grill, but also add a great smell and a unique taste. It reminds me of cooking with banana leaves. Banana leaves release a wonderful smell and a slight tropical taste. Not a banana taste.
The fig leaves give a coconut quality. It's nutty and just adds to the fish.

The fish was cooked perfectly. Moist and juicy. With the fig leaves wrapped around the fish, it was really easy to pull out of the grill tray. Easy to clean up, too.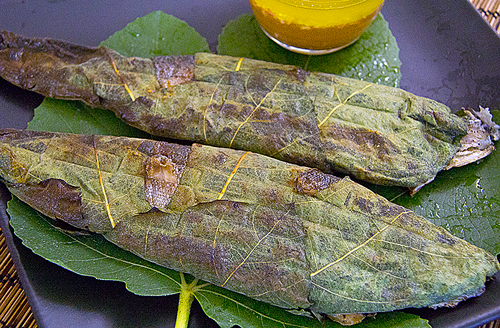 | | | |
| --- | --- | --- |
| Greek Week 2016: Trout Wrapped in Fig Leaves | | |
Prep time: 15 mins
Cook time: 14 mins
Total time: 29 mins
Ingredients
2 whole trout cleaned, gutted with bones removed if possible
Olive oil
Salt and pepper
2 large fig leaves
Juice if 1 lemon
2 Tbsp white balsamic vinegar
1 garlic clove, minced
Instructions
Prepare the grill and heat to 350 degrees.
Sprinkle salt and pepper all over the trout.
Generously, oil the trout on both sides.
Wrap the trout in fig leaves.
Generously oil the fig leaves.
Place into a grill basket and close tightly.
Place on grill and cook both sides, about 5 to 7 minutes on each side. The fig leaves should be brown and dried out, with the juices of the fish coming out clear.
Remove the pan from grill and the fish from the grill pan. Peel the fig leaf off. It's ok to have some of the fig leaf still attached. It might be a little difficult to remove, so use a gentle touch.
In a small bowl, mix lemon juice, garlic, vinegar, salt and pepper to taste. Drizzle over top or use the dressing as a dipping sauce.
Serve.
Enjoy!
When you eat it just peel off the fig leaves and enjoy. Adding a lemon vinaigrette along side really made this feel like a healthy Greek dish.
Now on to more Greek dishes. Maybe I should look into this Mediterranean diet more often.