C – Massive Muffin alert!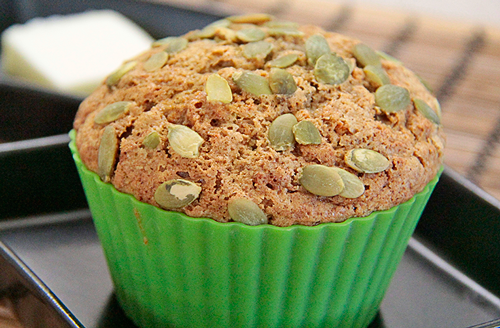 Yeah, blogger oops today. I forgot I needed cupcake liners to make regular-sized muffins. I used all the cupcake liners for my wedding and haven't replaced them.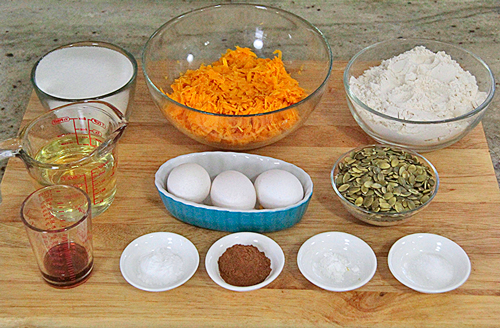 Luckily, I found the big-muffin silicon molds.

So, massive muffins for Jim. Jim normally eats two muffins in the morning. He's usually really hungry at lunch, since the muffins are a bit smaller than regular muffins.

If he eats two of these massive guys in the morning, he would be full all day. One will be perfect for him to be hungry for lunch, but not really hungry like normal.
Even better, massive muffins that are really easy. We had some leftover Kabocha from the pork and kabocha stir fry.

I love the stuff, but I would be eating it for weeks if I used an entire kabocha.

I was too lazy to roast, puree and strain the squash so I figured shredding the fresh kabocha and mixing it into the muffins will work.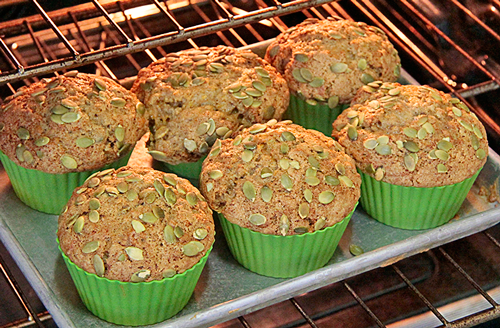 This muffin is more like zucchini bread, but with kabocha. It was delicious and really feels like Fall.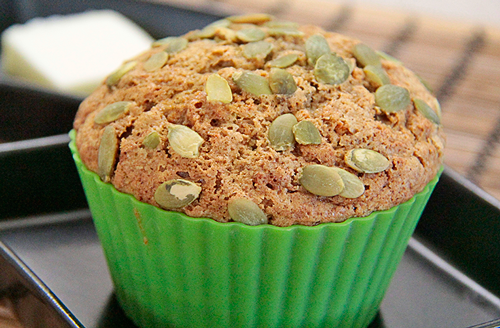 | | | |
| --- | --- | --- |
| Fall Squash Week: Kabocha Muffins | | |
Prep time: 15 mins
Cook time: 50 mins
Total time: 1 hour 5 mins
Ingredients
Silicon muffin molds; 6 for big muffins, 12 for regular muffins
2 cups all-purpose flour
2 tsp cinnamon
1 tsp baking soda
¼ tsp baking powder
½ tsp salt
1½ cups sugar
¾ cup vegetable oil
3 large eggs
1 tsp vanilla extract
3 cups shredded fresh Kabocha
1 cup toasted pumpkin seeds
Instructions
Preheat the oven to 325 degrees.
Sift the flour, cinnamon, baking soda, baking powder and salt together.
In a separate bowl, mix the sugar, vegetable oil, eggs and vanilla.
Combine both mixtures and fold in the shredded Kabocha and pumpkin seeds.
Once the ingredients are incorporated, pour into silicon muffin liners.
For regular muffins, bake for 30 minutes. For big muffins, bake for 45 to 50 minutes.
At this point, a knife inserted into the middle of each muffin should come out clean.
Cool for 15 minutes and turn out onto a cooling rack. Cool completely.
Serve.
Enjoy!
Jim loved them for breakfast.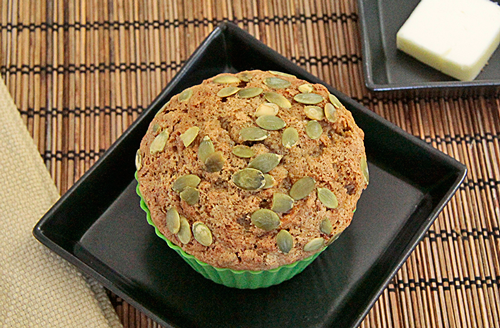 It's a mighty big muffin. Perfect to stay full until lunch.
Adapted from: http://www.foodnetwork.com/recipes/alton-brown/pumpkin-bread-recipe.html