C – I think Jim is trying to make me like stinky cheese.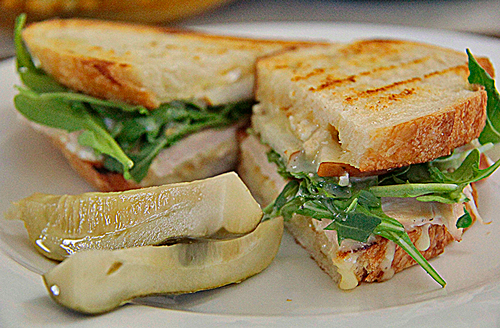 I am not giving in. You see, Jim is smart. He knows me well. If he keeps doing something long enough, I might just give in. Stinky cheese isn't one of them.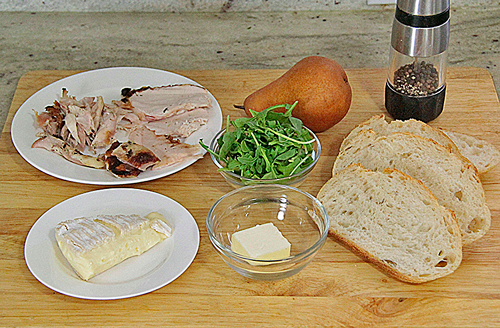 This sandwich has stinky brie. Am I going to like it? I am a bit mixed about it. So, being mindful, I had to keep an open mind and try it. Jim said a non-stinky brie wouldn't work for this sandwich. It would be a bland sandwich. There wouldn't enough flavor to make the sandwich good.

I have to say that Jim was right. We needed a stronger than normal brie. The sandwich was flavorful with the chicken. The sweet pear slices were good. But, to balance out everything, the strong brie was needed.

I could have gotten a less strong version of the brie and would have liked it. But the stinky one made the sandwich complex and interesting. Of course, any sandwich with crispy, toasted, warm bread and gooey cheese is a winner for me.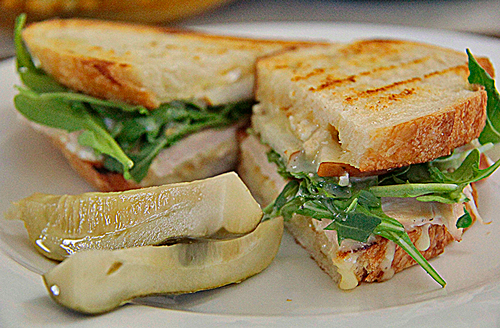 | | | |
| --- | --- | --- |
| Fall Lunch Menu: Brie, Pear and Chicken Sandwich | | |
Prep time: 5 mins
Cook time: 6 mins
Total time: 11 mins
Ingredients
Four ¼ inch slices sourdough bread
8 oz Authentic French Brie (stinky brie)
1 pear, thinly sliced
6 thinly sliced pieces of roasted chicken breast
¼ cup Arugula
Freshly ground black pepper
¼ tablespoon butter
Instructions
Heat a saute pan to medium heat. Spread a teaspoon of butter about the pan until melted.
Place slices of bread and toast until golden brown. About one minute.
Add more butter if needed. Flip over the slices of bread. Lower temperature.
Place the brie over each bread slice. Spread evenly.
Once brie begins to melt, top one slice with slices pears and the other side with slices of chicken.
Sprinkle black pepper over the top of the pear slices.
Top one side with arugula.
Bring one side of the sandwich over to the other side to close.
Remove from pan. Cut sandwich in half diagonally.
Serve immediately.
Enjoy!
I almost forgot I was eating stinky cheese.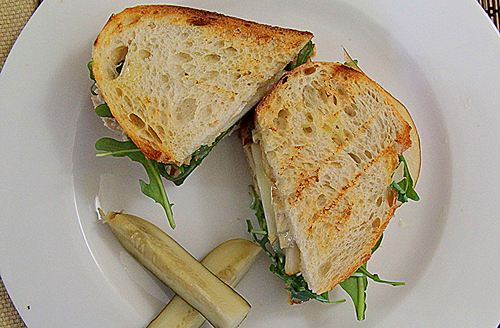 I am starting to see why people like stinky cheeses. I am still not quite a fan. But, this sandwich is scooting me into the light.