C — It's been a tough morning here at Be Mindful. Be Human.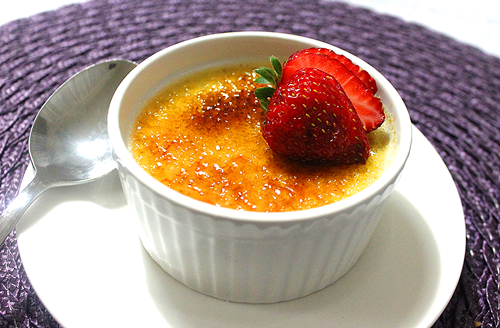 Jim has had a rough morning and he hasn't told me why. So, I guess it's up to me to lift up his mood. Not really sure if anything will work. He's been grumpy. Really grumpy. Boo.
I really don't want to try to crack a joke. He might chew my head off today.
I already asked what's wrong and if he wanted to talk about it. But, he said no.
I tried making his favorite sandwich for lunch to see if that would make his mood better. But, nothing. Boo!
What to do? What to do? What to do? I should just give up. Leave him alone. He'll come around. Right? Maybe.
After all these years working with him, I have never seen him like this. I wish I could just wave a magic wand and POOF! It all goes away. But, life doesn't usually happen that way.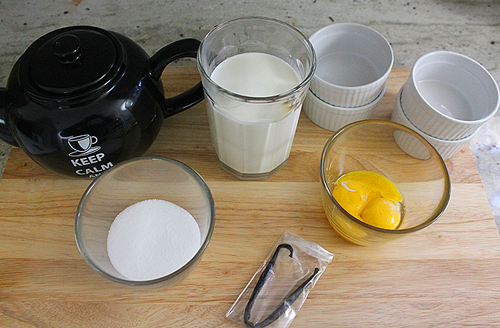 Well, maybe one thing might help his mood. Something he told me a few years ago that might be a sure fire way of getting rid of Jim's grumpies. Creme brulee! Jim loves custards. He told me once that it has something to do with memories of his grandfather. And, how his grandfather would make custard when he was upset. His grandfather was a big influence in his life.

His grandfather would go make a custard to calm down. Whenever Jim has a custard or crème brulee, he talks about him and lights up. I think it's one of Jim's happiest memories. Maybe I can take away his grumpies by leaving him alone and secretly make some crème brulee for him.

Of course, I have to make a good one. Nothing fancy. Just plain and simple, but with extra special ingredients. Sugar, cream, a vanilla bean and egg yolks. The vanilla bean really makes a difference. You really need a good one. Put eggs and sugar into a bowl. Boil the vanilla bean and pulp and let steep for 15 minutes. Slowly combine the two. Place in ramekins and into a cake pan with water and bake. Chill for two hours.
I should have thought of a quicker custard recipe. Jim is still in his mood and this crème brulee is taking FOREVER.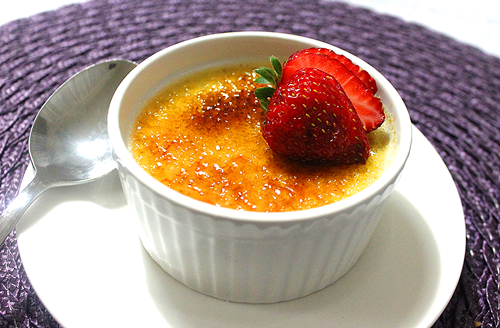 | | | |
| --- | --- | --- |
| Creme Brulee to Save the Day | | |
Prep time: 30 mins
Cook time: 2 hours 45 mins
Total time: 3 hours 15 mins
Ingredients
2 cups heavy cream
½ vanilla bean, split and scraped
½ cup sugar, divided
3 large egg yolks
2 quarts hot water
Instructions
Preheat the oven to 325 degrees.
Place the cream, vanilla bean and its pulp into a small saucepan set over medium-high heat and bring to a boil.
Remove from the heat, cover and allow to sit for 15 minutes. Remove the vanilla bean.
In a medium bowl, whisk together ¼ cup sugar and egg yolks until well blended and it just starts to lighten in color.
Add cream a little at a time, stirring continually.
Pour the liquid into 4 (3.5 inch) ramekins. Place the ramekins into a cake pan or roasting pan. Pour enough hot water into the pan to come halfway up the sides of the ramekins.
Bake just until the creme brulee is set, but still trembling in the center, approximately 40 to 45 minutes. Remove the ramekins from pan and refrigerate for at least 2 hours and up to 3 days.
Remove the creme brulee from the refrigerator for at least 30 minutes prior to browning the sugar on top.
Divide the remaining ¼ cup sugar equally among the 4 dishes and spread evenly on top. Using a torch, melt the sugar and form a crispy top.
Allow the creme brulee to sit for at least 5 minutes before serving.
Enjoy!
Finally, two hours are up! Its time to torch the suckers. It think Jim should do the honors. He just might like to be a pyromaniac, given his mood. A little bit of sugar on top and I called Jim into the room. He doesn't like the fact that I asked him to stop everything to see what I made.

Jim comes in, still looking down, and I show him what I've made. His eyes light up. I tell him to light the torch and toast the suckers! Lets eat! He was really excited. All of a sudden, his grumpiness is gone. That story of his grandfather was right! Just what Jim needed. A custard. I should keep one of these in the refrigerator at all times. Jim would be the happiest person on the planet.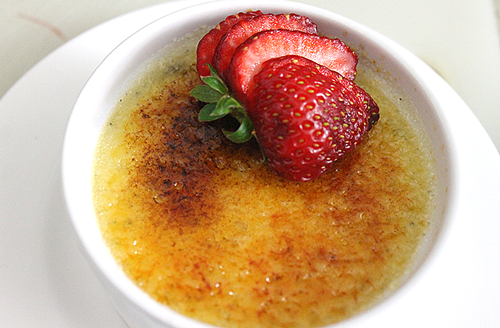 Jim takes a huge bite and is happy again. Life is GREAT again at Be Mindful. Be Human.
Adapted from: http://www.foodnetwork.com/recipes/alton-brown/creme-brulee-recipe/index.html