C – This is a technique I need to practice.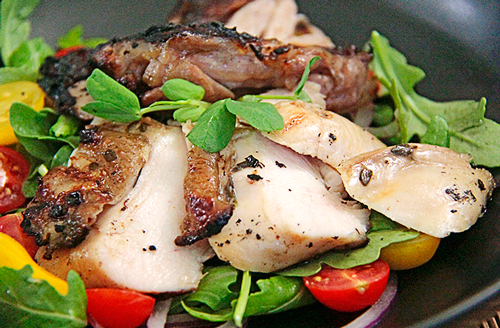 Deboning a chicken, leg quarter and all. Well … not all. The chicken wings won't be deboned this time. I am getting better at it. The technique really focuses on understanding a chicken's anatomy and working to get as much meat off the bone as possible … without out making it jagged and messy.

One thing I learned was to work with a really sharp knife and a stable cutting board. Either can mess you up.

A high quality, small fileting knife will allow you to cut around the joints without struggling. Place a towel underneath the cutting board to secure it.

After practicing a few times, I got the hang of it. Luckily, we had to debone two chickens so I had lots of practice.

Grilling a deboned chicken was great in so many ways. I loved that it didn't take much time to cook.

The meat was cut evenly, so it really made it perfect for grilling. If the breast is thick, pound it out a little and it will work perfectly on the grill.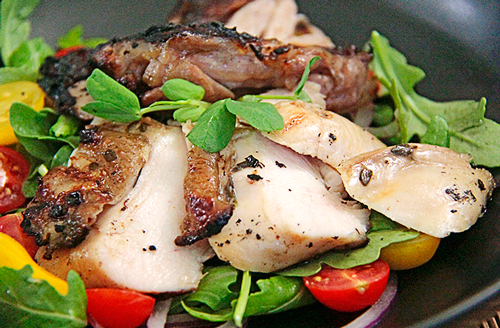 | | | |
| --- | --- | --- |
| Chicken Week: Deboned Pollo Al Mateo | | |
Prep time: 25 hours
Cook time: 15 mins
Total time: 25 hours 15 mins
Ingredients
½ medium yellow onion, peeled and quartered
3 fennel stems and fronds, rough chopped
4 to 6 sprigs of fresh thyme
2 bay leaves
6 pepper corns
½ cup kosher salt
½ cup golden brown sugar
8 to 9 cups water
1 whole chicken,
Canola oil as needed
Instructions
Mix all ingredients in a large pot and bring to a boil
Lower heat and simmer for 30 minutes.
Cool to room temperature. This is very important.
In a medium storage pan, pour brine over chicken pieces.
Brine the cut pieces overnight.
Using a very shape knife, debone the chicken. Leave the skin intact where possible.
Wrap a brick tightly with heavy duty aluminum foil.
Heat grill on medium high.
Pat chicken dry and remove herb bits. Coat with a small amount of oil.
Place chicken meat side down. Top with the brick and cook for five to seven minutes on each side.
Remove from the grill and let cool for about 10 minutes before cutting.
Serve.
Enjoy!
I really loved this chicken. The only problem is I will need a lot of bricks for grilling all the chicken I want. I could eat this all day. Especially, with the bones removed.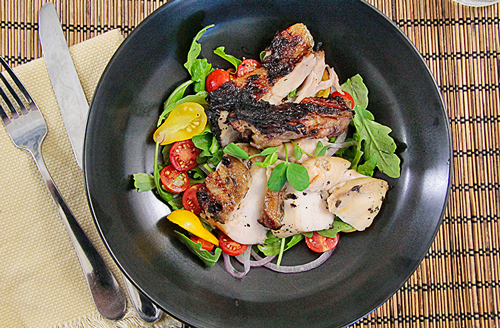 So glad I am practicing my deboning skills. It's allowing me to eat more of this recipe.