Update and Redux: C – Papaya salad is one of my favorite salads to eat as well as make. When we found that Andy Ricter's Tuk Tuk cookbook came out, we had to try making this papaya salad.
C – This is one of those dishes I look forward to at any family event.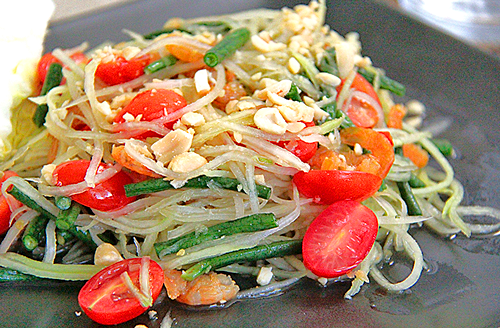 Thanksgiving, birthday parties. Gatherings where the entire family comes over. My Aunt would make this and everyone would be all over it. Her papaya salad would be an event, itself. What goes into it was a big question for me.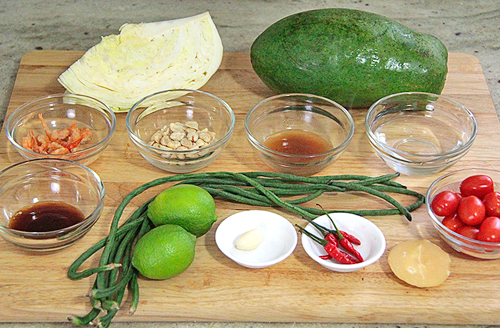 Sadly, she's shown me countless times. But, because there are so many ingredients, I'd forget each time. There's a special shrimp paste, or was it two types of paste? There's some sort of special fish sauce. Anyway, there are lots of things that go into this recipe.
I would help her for hours using the mortar and pestle while she threw things in. Pound, pound, pound. Does it taste good? Yup. It went really well with grilled meat. Addicting and super spicy.
I still couldn't figure out all the different things that went into her papaya salad. I am sure she wouldn't mind me using her recipe, but I haven't seen her in a while. So, I just could ask her for it. So, when Luke brought over the Pok Pok book by Andy Ricker, I had to try that recipe to see if it came close.

It was a good version. It's not like my aunt's recipe. My aunt's recipe is a lot better. This recipe is a lot simpler and not as strong in fish or shrimp taste. While I miss that, I still liked it. It's a recipe that didn't confuse me.
I will keep it and make it for myself when I'm missing home and my aunt. I did like that there are whole dried shrimps in it. The whole shrimp gave a nice meaty quality that is sometimes missing in papaya salads.
Luke loved the balance in taste. There was a sweet, salty, sour, spicy and umami quality to the dish. He loved how he could taste everything that went into this dish. I was happy he liked it.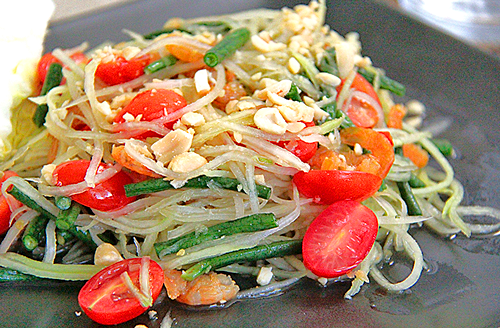 | | | |
| --- | --- | --- |
| My Home Cooking Week: Thai Papaya Salad | | |
Prep time: 20 mins
Cook time: 5 mins
Total time: 25 mins
Ingredients
1 generous Tbsp medium-sized dried shrimp, rinsed and patted dry
1 ounce palm sugar
¼ tsp water
1 small lime, halved lengthwise and center pith removed
1 medium clove garlic, halved lengthwise
2 Thai chilies
1 ounce long beans, cut into 2-inch lengths (about ½ cup)
1 Tbsp lime juice
1 Tbsp Thai fish sauce
1 Tbsp tamarind water
4 ounces papaya, peeled shredded (about 1½ cup)
3 ounces cherry tomatoes, (about 6) halved or quartered, if very large
2 generous Tbsp coarsely chopped unsalted roasted peanuts.
Wedge of white or green cabbage
Instructions
Heat a small dry pan or work over medium heat. Add the dried shrimp and cook. Stir frequently until they're dry all the way through and slightly crispy, about 5 minutes. Set aside to cool.
Put the palm sugar in a small microwavable bowl, sprinkle on ¼ teaspoon water. Cover the bowl with plastic wrap and microwave on low just until the sugar has softened (not liquified), 10 to 30 seconds.
Pound the mixture in a mortar (or mash it in the bowl) until you have a smooth paste. Cover and keep it soft for up to 2 days.
Cut one of the lime halves into thirds, lengthwise, then cut all those pieces crosswise. Set 3 of the pieces aside.
Combine the garlic, chiles and 1 tablespoon of the softened palm sugar in a large mortar. Pound with the pestle until you have chunky sludge with medium pieces of chile and small but visible pieces of garlic, about 10 seconds.
Add 3 lime pieces and pound very lightly, just to release the juice.
Add the shrimp, pound lightly (don't smash or pulverized them), just to release their flavor.
Add the long beans and pound lightly to bruise them (they should not break into pieces or totally flatten).
Add the lime juice, fish sauce, tamarind water and papaya.
Use the pestle to barely bruise the papaya (lightly pounding at a slight angle, not directly up-and down) for about 10 seconds, while simultaneously using a large spoon to scoop up from the bottom of the mortar, essentially tossing the papaya, palm sugar mixture, and the other ingredients as you pound. Do not smash the papaya. It should be crisp.
Add the tomatoes and pound lightly, just to release their juice.
Add peanuts and mix briefly with the spoon.
Transfer the papaya salad to a plate, liquid and all and serve with cabbage on the side.
Serve.
Enjoy!
I guess it's a good thing I couldn't figure out what was in my aunt's recipe. It will remain a family secret.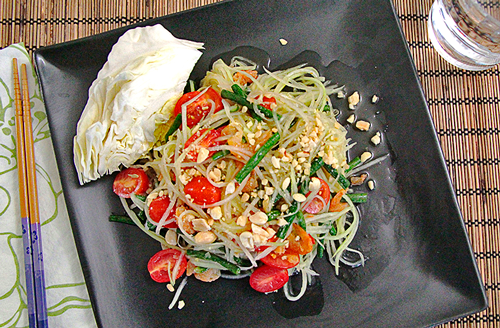 I am glad to find a good recipe that is much simpler to make at home.