C – It takes a lot of communicating to communicate well.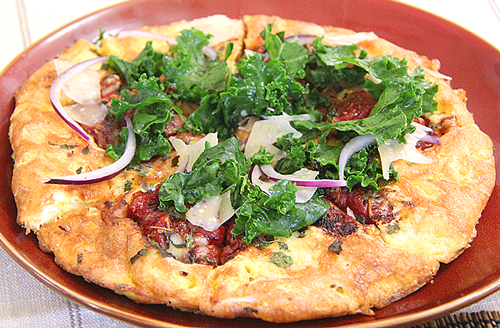 Communicating a new recipe concept is the worst. Sometimes, I wish people could just read my mind. This was the case when I wanted to make a egg pizza. Jim calls it a frittata. Clearly, he didn't understand what I was going for.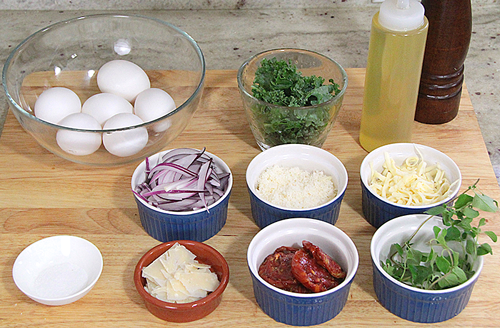 I really thought I communicated this concept really well. I guess I didn't. After working with someone for seven years, you would think I could do a better job. But no, I really didn't.

I started out telling Jim that I wanted an egg crust with a cheese topping and whole oven roasted tomatoes on top. Just like a pizza. He didn't like the idea. He was afraid that the egg would be over cooked by the time the cheese and tomato was warmed up. I agreed.
As I was starting to make this frittata, the communication started getting worse. It seemed simple enough. But, it just wasn't clear to Jim. It was one of those moments where I just had to say. I got this. Just watch. I knew what I was doing and he wasn't helping much. He actually made me doubt if I was doing it right. I was a bit frustrated.

Of course, being mindful, patient and calm in a situation like this is best. That's what I did to the best of my ability. I sauteed onions in a pan. Then I scrambled the raw eggs in a bowl and added them into the pan with some more hot oil. Mixed the mixture around a little so the eggs would stay nice and fluffy. Add the tomatoes and cheese on top to make it look like a pizza.

Jim forgot what I was doing and thought I should have mixed them into the frittata. I had to remind him of my concept again. Then, the most important part, drizzle oil around the edge of the pan so the eggs don't stick to the pan when I need to remove them. Then, put it in the oven for just 3 to 4 minutes to get everything cooked. Finally, take it out of the pan and serve it immediately.

It worked. It looked like an egg pizza. I knew it would work. I was happy. It tasted great too. Fluffy eggs with oven roasted tomatoes, onions, Parmesan cheese and kale salad.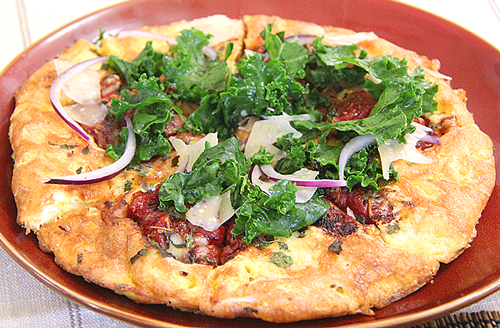 | | | |
| --- | --- | --- |
| Breakfast Week: Oven Roasted Tomato Frittata with Kale Parmesan Salad | | |
Prep time: 15 mins
Cook time: 8 mins
Total time: 23 mins
Ingredients
3 Tbsp grapeseed oil
6 eggs
¼ red onion, divided
5 halves of Oven Roasted Tomatoes, (See link below)
½ cup Parmesan, shredded
½ cup Gruyere cheese, shredded
1 Tbsp fresh oregano, chopped
1 handful kale, stems removed, torn into small pieces.
½ Tbsp fresh-squeezed lemon juice
Salt and pepper to taste
Instructions
Preheat oven to broil on low heat.
Place eggs, Parmesan, salt and pepper in a bowl and beat well.
In a medium saute pan, place a tablespoon of grapeseed oil and heat until warm.
Place ½ the red onions in saute pan and cook until softened. About 1 minute.
Add eggs to pan, covering the onions.
Bring eggs from the sides to the center to make the eggs fluffy.
Once eggs are starting to cook, on the bottom add oil to the sides of the pan so the egg won't stick in the oven. Loosen the eggs from the pan to make sure they don't stick.
Top the eggs with oven roasted tomatoes, Gruyere cheese and oregano.
Drop the pan into the oven and cook for 4 minutes until the eggs are golden brown.
Meanwhile, mix kale, lemon, 1 teaspoon of grapeseed oil, salt and pepper in a bowl.
Once eggs are done, remove from oven and place on a platter, uncut.
Top with the kale salad.
Sprinkle more Parmesan and red onions on top.
Cut the frittata.
Serve.
Enjoy!
Oven Roasted Tomatoes recipe
It was delicious. Nice and perfectly flavored. I love those oven roasted tomatoes and how the oil mingles with the eggs.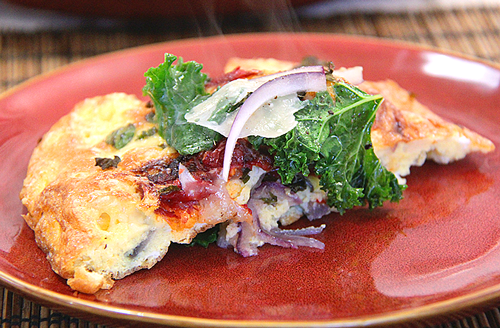 It's a great brunch recipe. Fast and easy to make. Thanks, Jim, for finally understanding the concept.