C – Happy Birthday, Jim!!!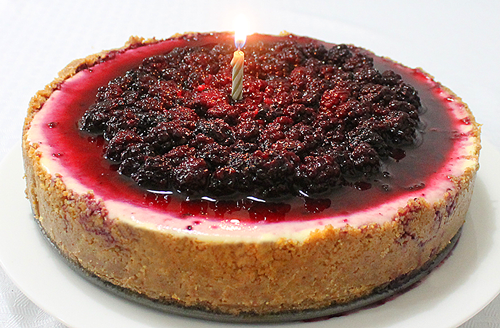 I made Jim a special cake this year. Not a normal chocolate or vanilla cake, but a cheesecake. I hope he likes it. Over the six years I have known Jim, I have never made or bought him a good birthday cake. It's really sad. Mainly, sad for me. I know him well enough to know when he doesn't like something. After I gave a cake to him, he wouldn't eat much of it. His reaction was always trying to be nice.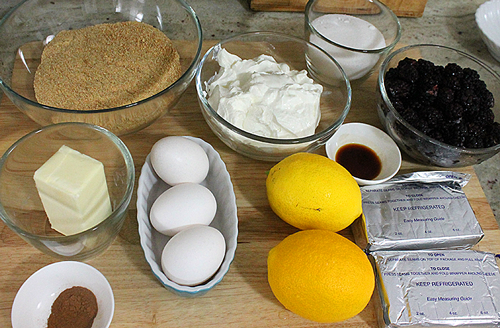 I have tried to make him a few different cakes. I haven't been successful. I ask him every year what he wants. He never gives me a straight answer. I actually told him for a couple of years that he won't get a cake. But, for some reason, I feel bad and end up making or buying him a cake. It ended up the same. Me being disappointed.

This year it's different. I asked Jim what he really wanted for a cake. He took half a day to think about it — knowing about my disappointing past cakes – and finally came up with a Blackberry-topped Cheesecake.

Yay! It's only a half cake! Or, is it a cake at all? I am happy he finally told me what he wanted. Unfortunately, I have never made a cheesecake in my life. I am really scared it might not turn out right. Some cheesecakes are too tart or are too cheesy. I am really scared. I really don't want to ruin his birthday again.

Well, cheesecake might get me to change my mind about getting a mixer. I made this by hand. It really uses a lot of arm work, especially if you don't have the cream cheese at room temperature. The cream cheese seemed not to be softened enough to make it smooth. It might taste like my worst fears coming true. But, so far, it looks like a cheesecake at least.

Well, I am glad that I didn't throw a birthday party for Jim. My cheesecake didn't turn out perfect. But, it still tasted great and that's what really matters. It wasn't fully cooked. I guess I should have let it cook a little bit longer. I blame it on the horrible thing in the kitchen I call an oven. I needed to cook it for maybe 50 minutes or longer. It was underdone in the middle, so it didn't hold together. But, the flavors are wonderful. Nice, rich and creamy. Not too sweet. It had a great flavor of berries and lemon that made it very refreshing.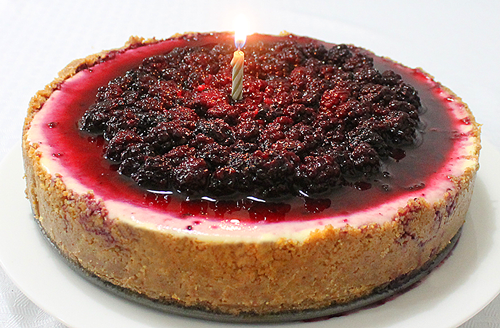 | | | |
| --- | --- | --- |
| Blackberry Cheesecake: Jim's Birthday Cake | | |
Prep time: 5 hours 30 mins
Cook time: 50 mins
Total time: 6 hours 20 mins
Ingredients
2 cups finely ground graham crackers (about 30 squares)
½ tsp ground cinnamon
1 stick unsalted butter, melted
1 pound cream cheese, two 8-ounce blocks, softened to room temperature
3 eggs
1 cup sugar
1 pint sour cream
1 lemon, zested
1 dash vanilla extract
1 pint blackberries, fresh or thawed if frozen
1 lemon, zested and juiced
2 Tbsp sugar
Instructions
Preheat the oven to 325 degrees.
In a mixing bowl, combine the ingredients with a fork until evenly moistened.
Lightly coat the bottom and sides of an 8-inch spring-form pan with non-stick cooking spray.
Pour the crumbs into the pan and, using the bottom of a measuring cup or the smooth bottom of a glass, press the crumbs down into the base and 1-inch up the sides. Refrigerate for 5 minutes.
In the bowl of an electric mixer or by hand, beat the cream cheese on low speed for 1 minute until smooth and free of any lumps.
Add the eggs, 1 at a time, and continue to beat slowly until combined.
Gradually add sugar and beat until creamy, for 1 to 2 minutes.
Add sour cream, lemon zest, and vanilla.
Periodically scrape down the sides of the bowl and the beaters.
The batter should be well-mixed, but not over-beaten.
Pour the filling into the crust-lined pan and smooth the top with a spatula.
Set the cheesecake pan on a large piece of aluminum foil and fold up around the sides.
Place the cake pan in a large roasting pan.
Pour boiling water into the roasting pan until the water is about halfway up the sides of the cheesecake pan. The foil will keep the water from seeping into the cheesecake.
Bake for 45 minutes. The cheesecake should still jiggle (it will firm up after chilling), so be careful not to overcook.
Let cool in pan for 30 minutes.
Chill in the refrigerator, loosely covered, for at least 4 hours.
In a small saucepan add blackberries, sugar and lemon zest. Simmer over medium heat for 5 minutes, or so until the fruit begins to break down slightly.
Let cool before spreading on cheesecake.
Loosen the cheesecake from the sides of the pan by running a thin metal spatula or knife around the inside rim.
Release spring-form sides and transfer base to a cake plate.
Using a spatula, spread a layer of Warm Lemon Blueberry topping over the surface.
Slice the cheesecake with a thin, non-serrated knife that has been dipped in hot water. Wipe dry after each cut.
Enjoy!
Jim commented that he wouldn't mind me testing this recipe again. That means he liked the birthday cake. YAY! I guess I will be making another cheesecake next year.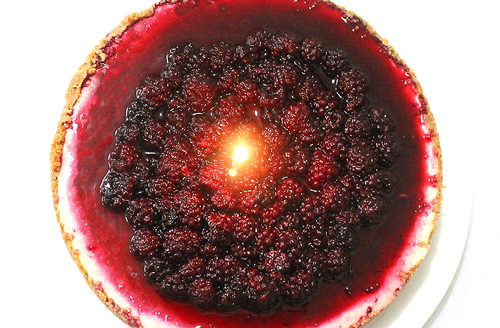 Happy Birthday, again, Jim. I am so glad you liked the cheesecake.
Adapted from http://www.foodnetwork.com/recipes/tyler-florence/the-ultimate-cheesecake-recipe/index.html