C – It's cold here. I think I have the Winter Blues.
I wanted to figure out how to beat the winter blues. So this week, we decided to try to get rid of these winter-time blues. To get rid of them, I figured I would warm myself up a little. Hope you're ready for "Beating the Winter Blues Week" with some spice and heat.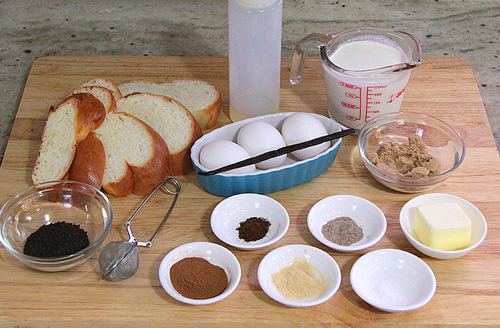 It's cold on Winter mornings in an old 1940′s house in Sacramento. Since it's so old, I hate turning on the heater. It's loud, brings up all the dust and gets way too hot, too quickly. I usually end up getting a headache and my morning is ruined.

Instead, I like to warm myself up with lots of warm clothes, some warm tea and a nice hot breakfast.

I usually go for a savory breakfast. But, today, I thought I would splurge a little with some nice Chai Challah French toast. It's a mixture of chai spices … to warm me up … in my French toast. It gives me a flavorful kick and also gets me warm.

I love good French toast. But, I am a bit picky. I've had bad French toast. The bad ones usually consist of old sliced sandwich bread, mixed with milk and egg and then cooked. I'm always a little let down when I order it at a restaurant and a plate like that shows up. I feel like I'm eating soggy old toast.

When I make French toast, it's a lot different. I use good bread. I also make a good flavorful custard to start with. Typically, the bread is something that would be good in a bread pudding. It allows all the goodness of the custard to soak in.

I add lots of seasoning to my custard mixture, too. A lot of vanilla, some cinnamon and other spices that will mix well together. I soak it, fry them up and then make sure they are fully cooked inside by placing them in the oven for a few minutes.
| | | |
| --- | --- | --- |
| Chai Challah French Toast | | |
Recipe type:
Mains, Desserts
Prep time: 15 mins
Cook time: 15 mins
Total time: 30 mins
Ingredients
1 loaf day-old Challah bread, cut into ¾ inch slices
1 cup half and half
3 eggs
1 Tbsp black tea in a tea strainer/ball
½ tsp ground cardamom
1 Tbsp cinnamon
½ tsp ground dry ginger
½ tsp ground cloves
1 vanilla pod, cut lengthwise and seeds removed. You will be using both in the custard mix
Pinch of salt
1 to 2 Tbsp butter
1 to 2 Tbsp canola oil
1 Tbsp powdered sugar for garnish
½ cup raspberries for topping
Maple syrup to drizzle on top
Instructions
In a small sauce pan, place half and half and bring to a light simmer. Remove from heat.
Place black tea in half and half. Let steep for 10 minutes.
Preheat oven to 350 degrees.
Once tea is steeped, removed it and add cardamom, cinnamon, ginger, cloves, salt, vanilla pods and beans into the tea/ half and half mixture. Mix well.
Add eggs and mix well.
Heat a large skillet or flat grill pan on medium high.
Dip each slice of Challah bread into the custard mixture for 45 seconds on one side. Then, carefully flip it over to soak on the other side for 45 seconds. Remove from custard and place in a flat pan prior to cooking.
Repeat with the remaining slices of bread.
Place 1 tablespoon, each, of butter and canola oil. Once butter is melted, place each dipped Challah bread slice into pan and cook for 2 minutes on each side or until browned.
Place cooked slices on parchment or foil lined baking sheet. When finished, place in the oven for 5 minutes.
Remove from oven and arrange on individual plates.
Sprinkle powdered sugar over top. Garnish with fresh raspberries.
Serve with maple syrup.
Enjoy!
The result is a nice crispy French toast on the outside and a soft custard/bread interior. It's delicious. Especially, when you top it off with some berries and maple syrup. Delicious!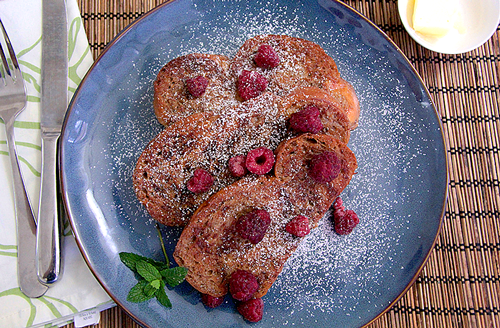 Yup, this started my day off nice and warm. Can't wait to keep warming myself up this week.