C – Some days Luke, Jim and I will disagree on a technique or process.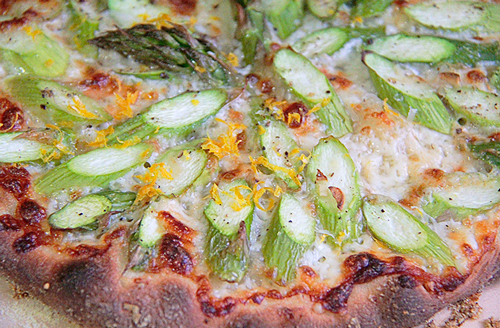 It doesn't happen often. But, when it does, the phrase "We'll just have to test it." comes up. This time the disagreement was with this asparagus pizza. Three different style pizzas, all with the same toppings. That's a lot of pizza to test.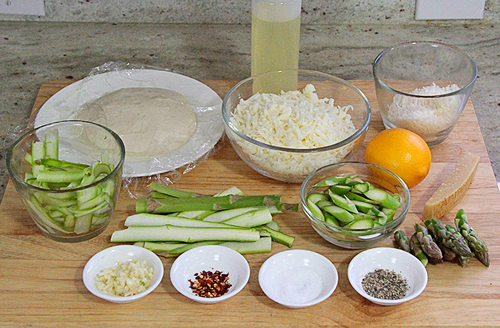 The question: "How to cut the asparagus to not overcook it on the pizza?" Twelve minutes can be a long time to cook vegetables in the oven. Especially, in a really hot oven with lots of vegetables.

My suggestion was to make thin strips and layer them on top of the pizza. Then, bake it. Yeah, I think Luke was right. The strips might be overcooked by the time the dough was done. Baking the pizza half way and then topping it off might be a better solution.

Luke and Jim suggested I cut them thicker and place them on top. It will be better for the cooking time. I didn't think so, but I was willing to try.
Then, I was went crazy and started to think about smaller sized pieces of asparagus. Would that be best?

Testing went well. Other than I messed up one of the pizzas placing it in to oven. I burned myself trying to rescue it. The taste tests were awesome. Each pizza was unique in its own way.

The thinly sliced asparagus pizza was perfect. It was easy to eat and the asparagus wasn't overcooked at all. The flavors of the garlic, lemon zest and asparagus were wonderful.

The thicker sliced asparagus pizza was little more difficult to eat. The asparagus was tough to bite through. We needed to cut into them to eat them. They kept falling off the pizza. The flavors were still wonderful and we still devoured it.

The last pizza was the prettiest, in my opinion. I cut asparagus on a bias and then place them to look like a flower. Its a typical thing I would do.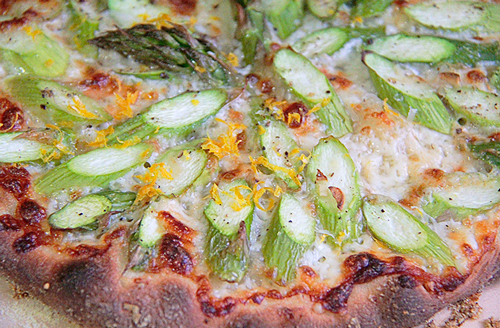 | | | |
| --- | --- | --- |
| Asparagus Week: Asparagus Pizza | | |
Prep time: 15 mins
Cook time: 12 mins
Total time: 27 mins
Ingredients
1 pizza dough (recipe link below)
1 pound mozzarella cheese, shredded
1 cup grated Parmesan cheese
1 pound asparagus
2 garlic cloves, minced
1 Tbsp grapeseed oil
Salt and pepper to taste
1 lemon, zested
1 tsp red pepper flakes
Instructions
Preheat oven with a pizza stone to 500 degrees for 1 hour before cooking.
If trying to make all three types of pizza use these instructions.
Divide the asparagus into thirds.
Cut one pile of asparagus into strips. Add a teaspoon grapeseed oil, garlic, salt and pepper.
Slice another pile of asparagus on a bias. Add a teaspoon grapeseed oil, garlic, salt and pepper.
For the third pile, using a carrot peeler strip the asparagus into ribbons. Add a teaspoon grapeseed oil, garlic, salt and pepper.
Divide the pizza dough into 3 equal parts.
Roll out dough for one of the asparagus pizzas.
Add cheeses first with either the strips or sliced-on-a-bias asparagus. Arranging the asparagus on top in a single layer.
Place in a oven on the pizza stone and bake for 12 minutes. Rotate half way through. Remove, let cool for 5 minutes before eating. Repeat with second form of asparagus.
For the ribbon pizza, add cheese to the dough and bake for 6 minutes. After 6 minutes, top the pizza with the ribbons and continue cooking for another 6 minutes until dough is cooked.
Remove from oven and top with lemon zest and red pepper flakes.
Let cool for 5 minute before serving.
Cut and serve.
Enjoy!
Pizza Dough recipe
The outcome was the the best for me. Lots of asparagus taste to the pizza. The asparagus was still crisp and fresh. Really easy to bite into. Nothing fell apart. The taste was also wonderful.

In summary. Each style of pizza was really good. The third was the best and the prettiest. Enjoy!