Update and Redux: C – Start the year off with a really good healthy breakfast. Make it a tradition that will help you throughout the year. Try this cranberry pear oatmeal with bananas and almonds. It's perfect to start the new year off right.
C – I can't eat plain oatmeal.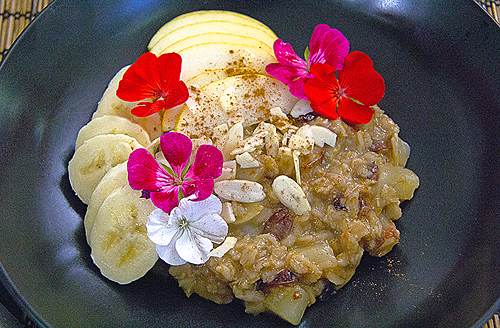 Please don't make me try. I will be the slowest eater, if it's ever served to me. I will hide it in a napkin to get rid of it. I can't handle just mushy flavorless cooked oats.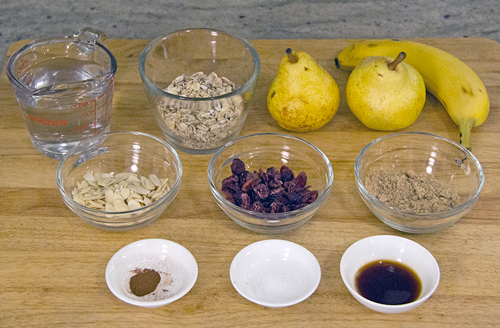 I will only eat it if I am in survival mode and it's the only thing I have to eat. I will eat plain mushy flavorless oatmeal.

I like oatmeal, but it has to be loaded with lots of things. My typical oatmeal consists of a little bit of oatmeal, a hint of sweetness or savory component, lots of stuff in it like fruits or vegetables, and seeds or nuts.

I love having different textures in my oatmeal. The mushy oatmeal really works well with crunchy nuts and crispy pears or apples.

I also have to have lots of flavors in my oatmeal. If it's a savory oatmeal dish, I usually add onions and mushrooms.
In this oatmeal, I added brown sugar, cinnamon and vanilla. It's pretty much a dessert for breakfast.

I am not sure if this is considered a diet food after adding all these ingredients into the oatmeal.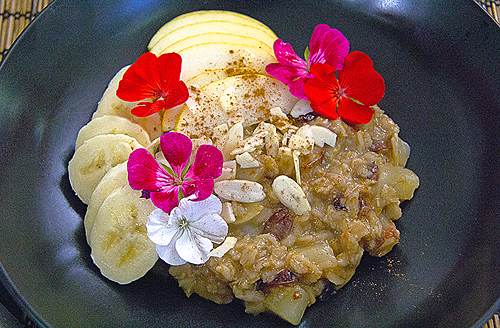 | | | |
| --- | --- | --- |
| Better Breakfast Week 2016: Cranberry Pear Oatmeal with Bananas and Almonds | | |
Prep time: 15 mins
Cook time: 15 mins
Total time: 30 mins
Ingredients
2 cup water
½ cup rolled oats
2 Tbsp brown sugar
¼ tsp ground cinnamon
2 Tbsp dried cranberries
A pinch of salt
¼ cup sliced almonds, divided
1 tsp vanilla
2 pears, 1 peeled and chopped, 1 with the skin on, sliced
1 banana, sliced
Instructions
Bring water to a boil in a sauce pan.
Add rolled oats, brown sugar, cinnamon, dried cranberries, salt and the chopped pear.
Reduce heat to a simmer. Cook for 10 to 15 minutes or until the oats are softened and fully cooked. If you like your oatmeal thicker reduce the amount of water by ¼ cup. If you like a thinner oatmeal, add ¼ cup water at the beginning.
Once the oats are cooked through, turn off the heat and add 3 tablespoons of sliced almonds and the vanilla into the oatmeal. Mix to combine.
Place in serving bowls. Top with bananas, more almonds, the sliced pear and a dash of cinnamon.
Serve.
Enjoy!
You will get your fiber, but also lots of flavor. I like oatmeal when it's like this.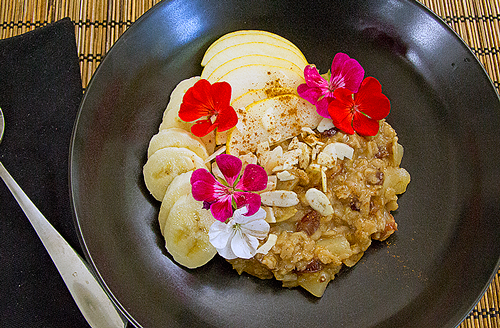 I could eat oatmeal for almost every meal. Just not plain oatmeal.